It has been a while since I wore something from AliExpress. Or even blogged about it! Don't get me wrong, I still love the place and truly believe it should be every girl's first port of call for clothes if you like places like Dangerfield or Princess Polly (whom we all know import their stuff straight from Chinese factory floors anyway), my focus has just shifted dramatically to hand-sewn items.
I'm forever torn on the direction of this blog–All stylish sewing, all frugal fashion, or a mix of both?
And what about the cooking segments I promised??
WHAT OF THEM?
Couple all this with the fact that a recent coupling has been distracting the heck out of me, it means I have left this blog quite abandoned, as though it were one of my lesser-favourite stepchildren. (What's this coupling business, you ask? All will be revealed soon, and this is when we cue the cheesy saxophone solo.)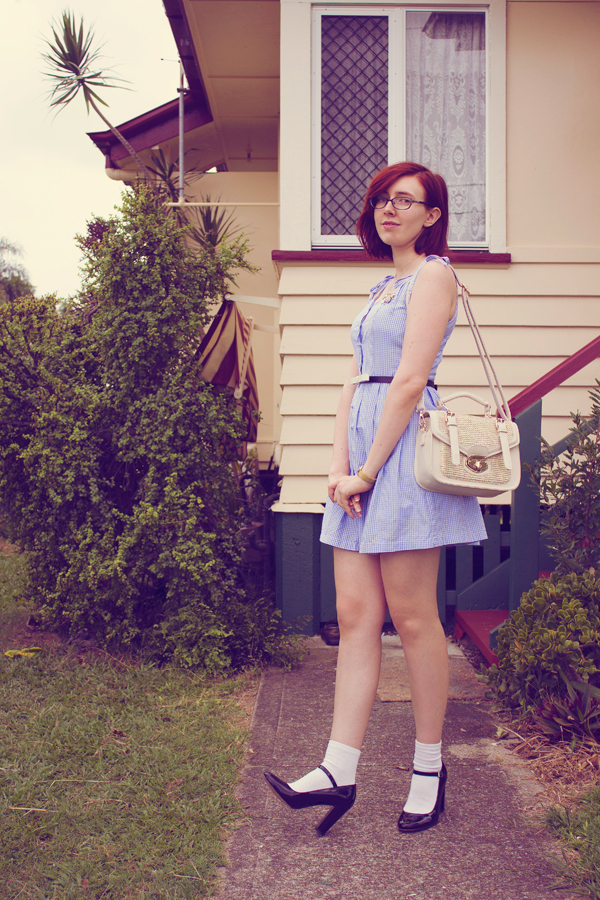 All that aside, this is one of my favourite outfits this Summer and simultaneously my mother's most hated. I would wear socks with MaryJane heels all day, e'ry day if I could but dressing like an adult schoolgirl is something that really does turn a lot of heads, and not always for the best reasons. But I keep my head held high and prance around in my sock/heels combination like a show pony regardless. The weather is much too hot to care about what other people think about the clothes you're wearing.
This outfit also seemed like the perfect opportunity to whip out this awesome bag I was recently gifted. It's structured, it's a satchel, it's full of pockets, and it has gold detailing on it–this is basically my entire criteria list for the perfect bag. I will wear it with everything.
What I wore:
Alex Perry Glasses – c/o Specsavers
Gold Bee Brooch – AliExpress, $2 (On sale!)
Blue Gingham Pleated Dress – AliExpress, $14 (On sale! Also available in pink)
Black and White Bow Belt – Mascotte, $6
Gold and Cream Satchel – Gift from Tim
White Cotton Ankle Socks – Old
Jo Mercer "Hooch" Mary Jane Heels – The Iconic, $60
Total: $82
Anyways, just want to let you know that if you don't hear from me again in a while, there's a good reason. Life has been a whirlwind of events as of late, and I'm still trying to follow my yellow brick road down to Emerald City. (This seemed an appropriate metaphor given the nature of this outfit–now all I need is a pair of sparkly red heels.)