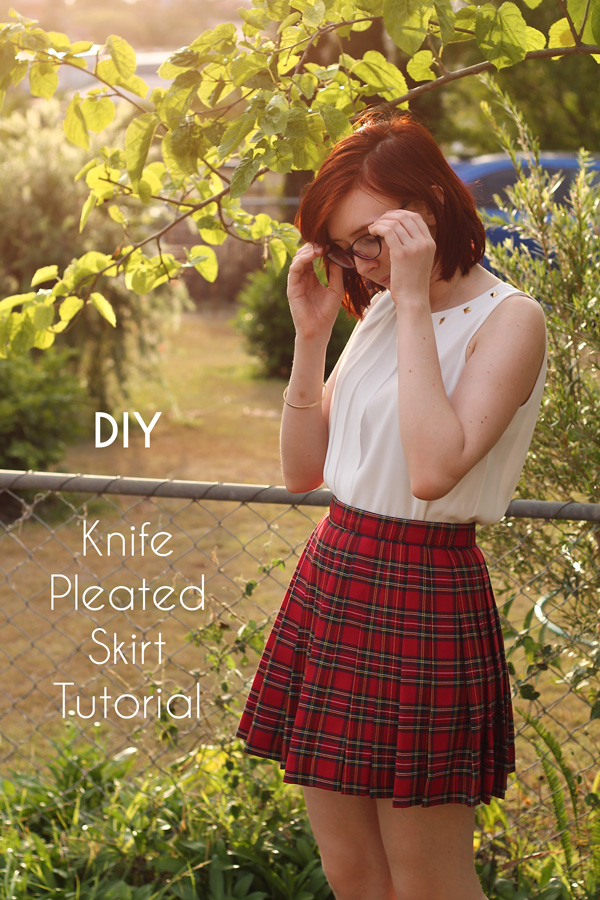 This time around, we're looking at a slightly different technique to achieve that "schoolgirl chic" look with a knife-pleated skirt (also known as a side-pleated or tennis skirt). I'm using a woven tartan here, but you can use whatever material you prefer for yours.
You will need:
Sewing machine
General sewing kit–Scissors, needle, seam ripper, tape measure, regular pins and safety pins
Something to draw on your fabric with (chalk, pencil, pen, etc.)
Woven fabric (we'll get to how much in a bit)
Matching thread
Regular zip (At least 15cm long)
The measurements
First thing you want to do is make sure you've bought enough fabric! There are two types of knife-pleated skirts you can make, one with deep pleats and one with shallow pleats. I think deep pleats look slightly nicer on woven fabric like tartan but if you are short on fabric, shallow pleats are just fine.
This is your algorithm:
Belt loops, pockets, and lining are optional–for this tutorial, we will cover none of those but if you want to review methods on how to make them, just refer to my box-pleated skirt tutorial.
A is your waist measurement. For deep pleats, you want five times your waist measurement (5A), if you want shallow pleats, the total width will be 3A (plus seam allowances). You can split this up into two panels if you want a front and a back, or you can just pleat one continuous strip of fabric. Obviously if you do this, you won't be able to put pockets in. For the waistband, pick a width that you like best and substitute that in for the x in the diagram.
I wanted a waistband that was a little over an inch thick and since I was sewing a mini skirt and had a piece of fabric that was 180cm x 120cm, I split my fabric into two panels (back and front) with a strip left over for a waistband later on.
I wanted my skirt to be 40cm long, a pretty decent length for a miniskirt without being too tarty (ha, get it?). I left a good 10cm of hem allowance on the bottom because I wanted the flexibility of being able to let it out a bit later on.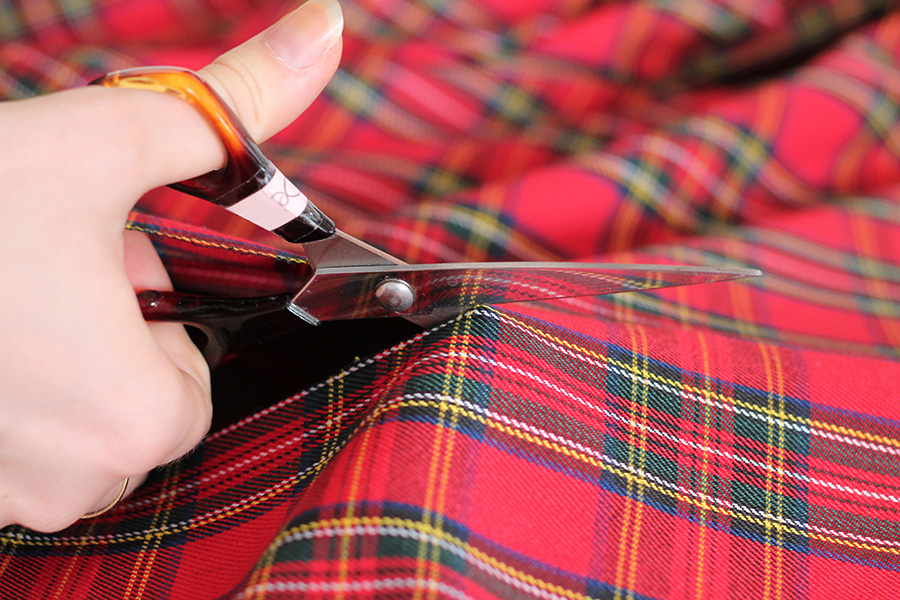 Snip, snip, snip. If you're using tartan fabric like me, the pattern makes pretty good guidelines!
It is at this stage that if you're using two rectangles of fabric for your skirt instead of just one long one, you have to straight stitch them together at one end to create one long strip. Ignore this step if you just have one continuous length of fabric for the body of the skirt.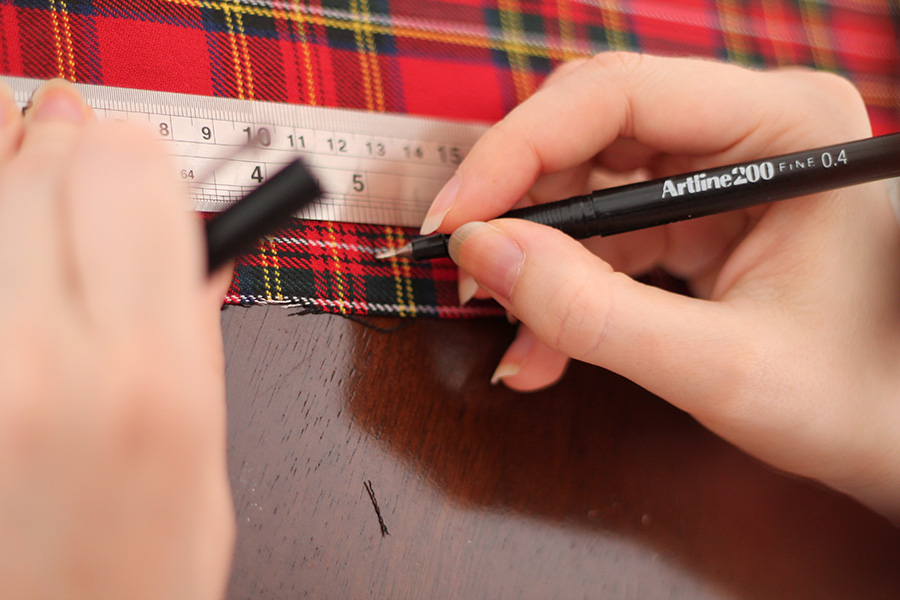 Inch-wide pleats are pretty cool and easy to keep track of, but adjust for taste – you can make them 2 inches for half as much work, or half an inch if you're a masochist with psychopathic tendencies.
Remember that for each pleat's width, there's 5x the amount of fabric behind it, and you want to pick a number that is easily divisible by your waist measurement, so all your pleats are evenly-sized and you're not left with one giant or mini pleat at the back next to your zipper.
My waist is 26 inches, so my skirt has 26 inch-wide pleats, so roughly 130 inches of fabric went into the skirt. Yep, that's about 3.3m of fabric! Mark off your pleats along the prospective waistband of the skirt because it's going to be covered by a waistband later on.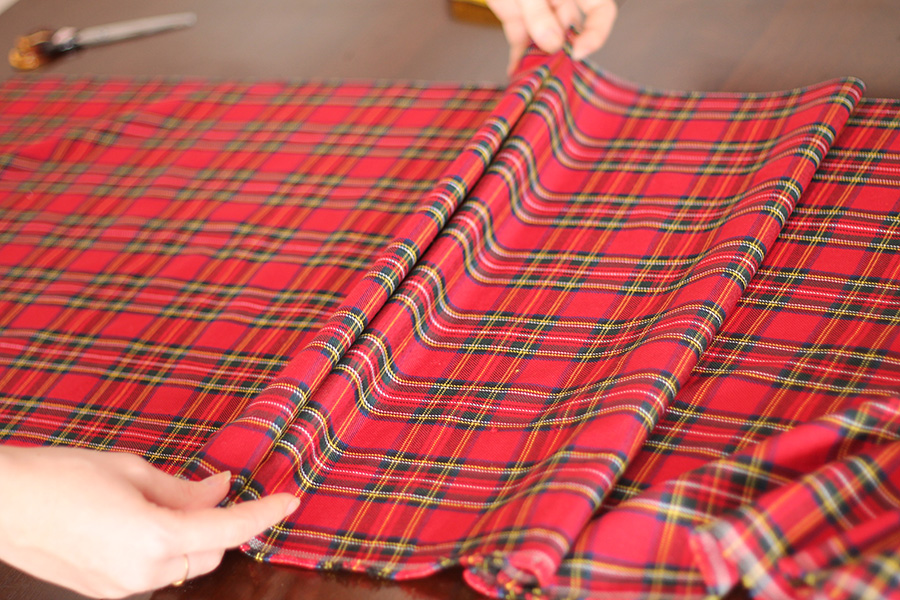 Now begin folding your pleats.
X is the size of your pleats. For shallow knife-pleats, the pattern is 1x, 2x, 1x, 2x. For deep pleats, the pattern is 2x, 3x, 2x, 3x. So for shallow knife pleats that are 1 inch in width (for example), you'd make a marking 1 inch from your seam allowance, then 2 inches from that mark, then 1 inch from that mark, etc.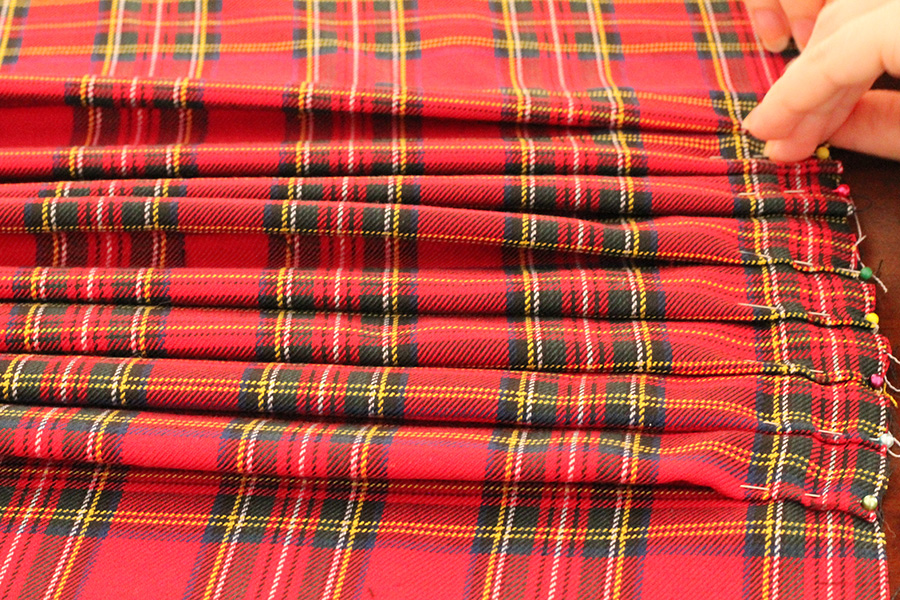 Pin your pleats into place at the waistband. For those going for deep pleats, check both the front and the back to see if the appearance is uniform.. I had to redo a whole section because I accidentally made a shallow pleat halfway through. Ugh!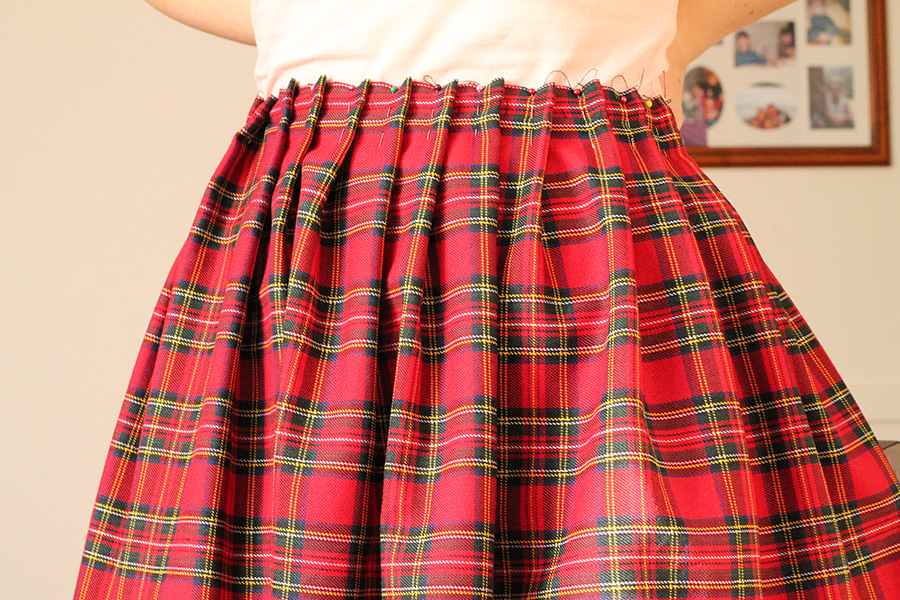 Do what I didn't do and press your pleats down. It will help them keep their form. I wish I had learned this lesson when I made this skirt. PRESS EVERYTHING.
Before you sew, check that you have enough pleats to go the full circle around your waist. I always err on the side of sewing a couple extra.. you can always use a seam-ripper to undo the surplus pleats afterwards, anyways. Just sew a straight line across all your pleats as neatly as you can.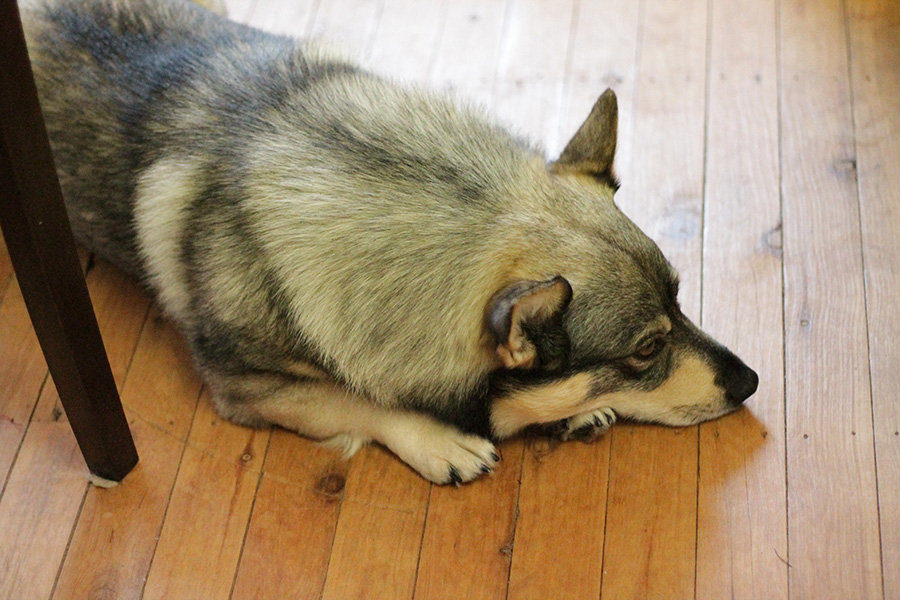 Here's a complimentary picture of Hugo to encourage you while you're sewing.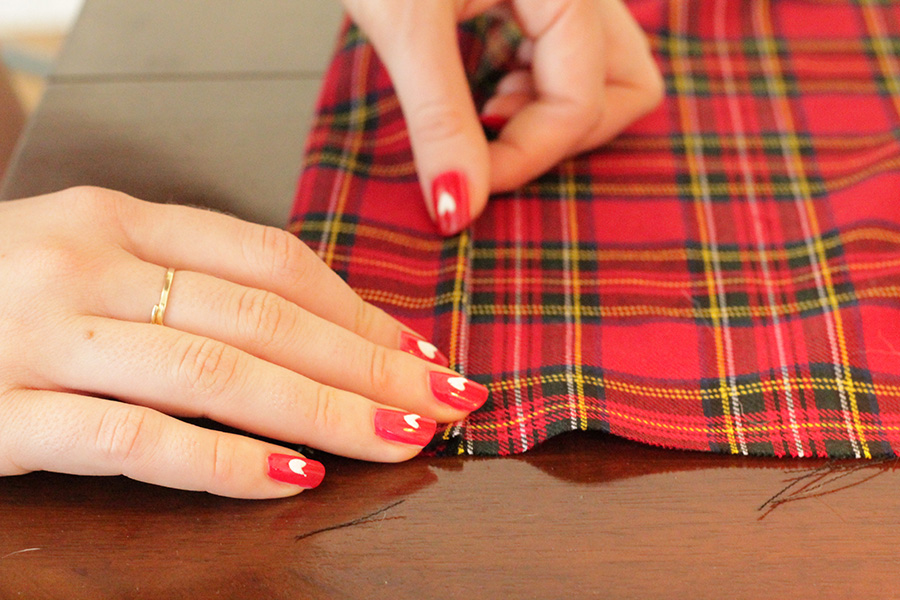 Now we get to your hemline! If you're not overlocking/serging your hem beforehand, you will need to fold twice to get a neat finish from the inside. Fold once and then again to get your hem to the desired length and press into place. You may want to pin your hem down because if you're not using a walking foot, your lower layer will get dragged through your machine ever so slightly faster than the top layer.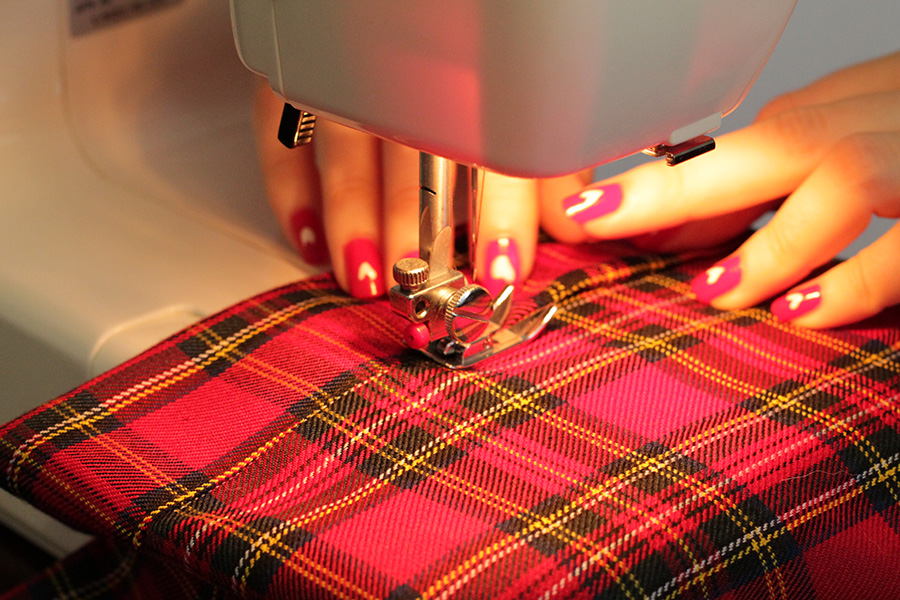 I did the hem at this stage, but personally I would recommend hemming be the absolute very last thing that you do. My fabric was really thick and I don't have a walking foot so throughout the project, I noticed that the fabric was getting warped and twisted in places as I sewed due to the machine dragging the bottom layer more than the top layer, so I elected to do this step at this stage because I knew I was never going to have a perfect hemline. Mistakes, I've made a few.
It's pretty easy to disguise a straight stitch among the pattern, but I'll make sure to cover invisible stitching for you guys in a future tutorial sometime.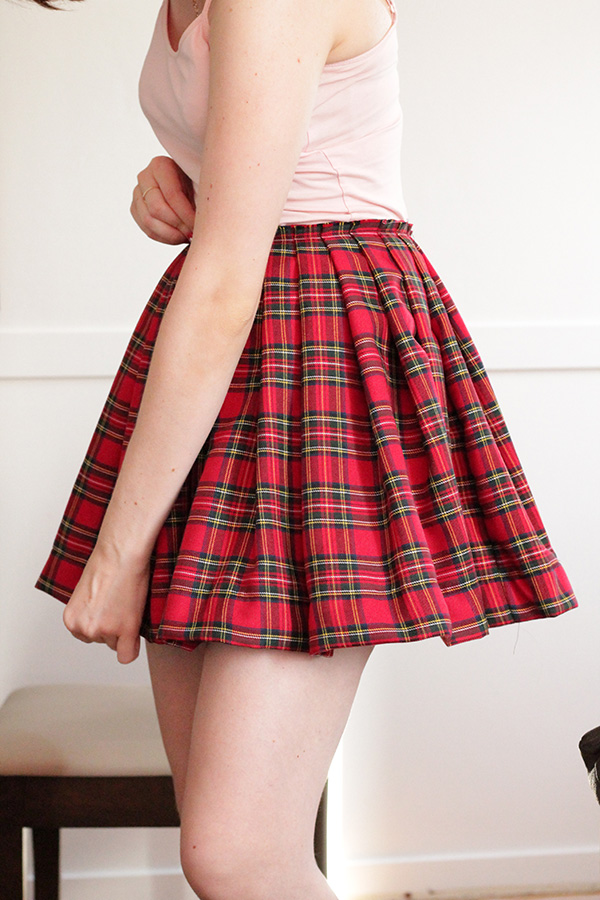 It looks a bit lumpy at this stage because the hemline is so thick, but that's nothing a bit of pressing won't fix.
The waistband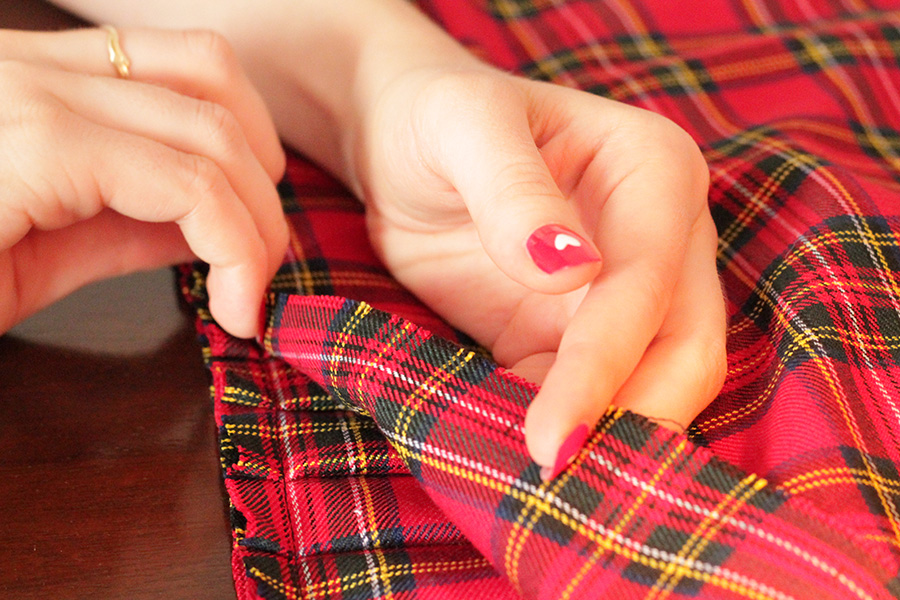 If your fabric isn't very thick, you will want to interface your waistband beforehand. My fabric was very thick so I left it out.
Lay the fabric for the waistband on your skirt, right sides together and align it with the top of the skirt like pictured above. Sew the skirt and waistband together.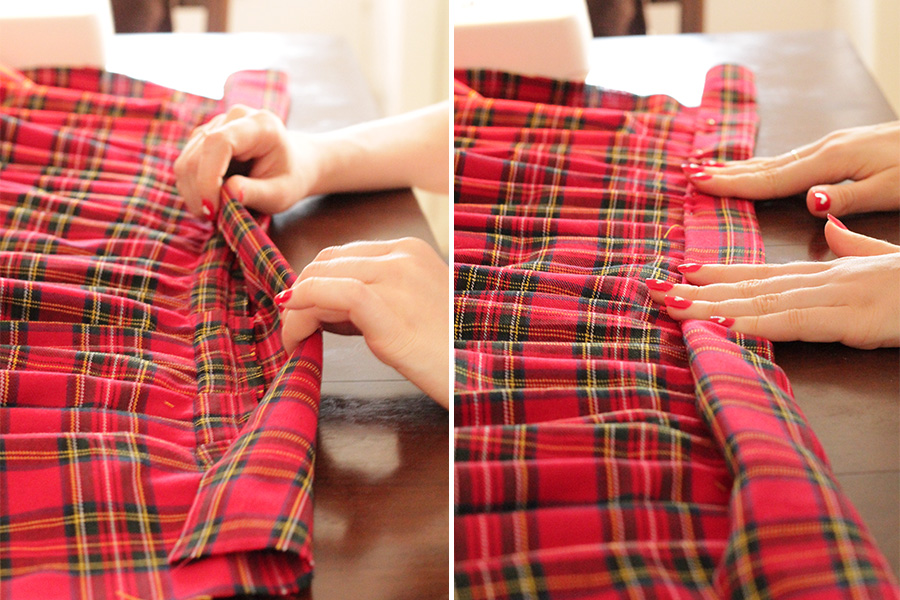 Then flip the skirt over, roll the waistband over, press flat, and pin down that side. Sew from the front of the skirt right where the pleats start under your waistband so you can make that stitch super-invisible, but make sure you're catching the inside of the waistband with your stitches too, haha.
The zip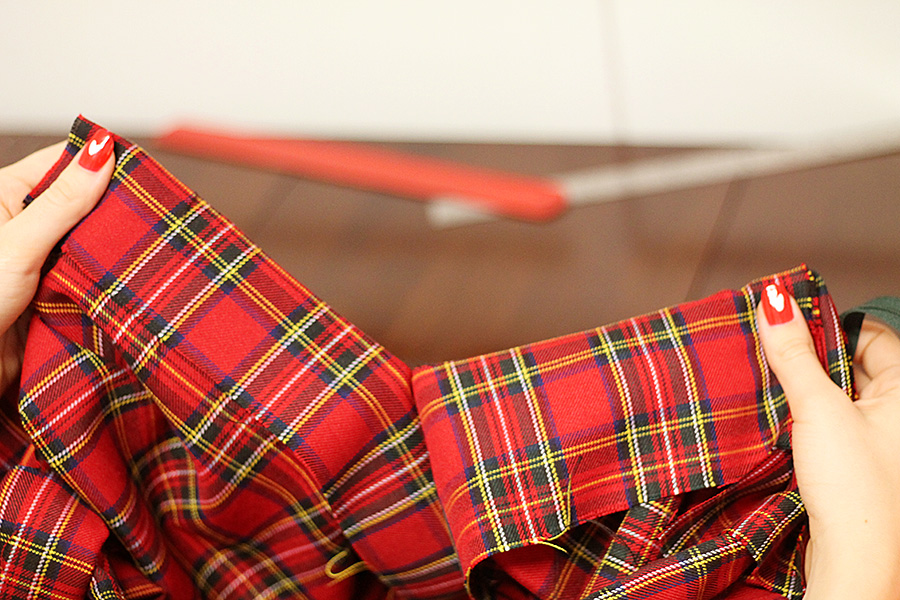 Unpick any paranoia-induced pleats that you added on as extras–just make sure to hold it around your waist to make sure it's not too big or too small. Then sew your skirt together at the loose ends, excluding the waistband area. For the waistband, you will want to tuck the loose ends of the waistband inward and slipstitch or topstitch the tube closed. You can topstitch all the way around the waistband if you like but make sure your stitching is super precise or it will look home-made.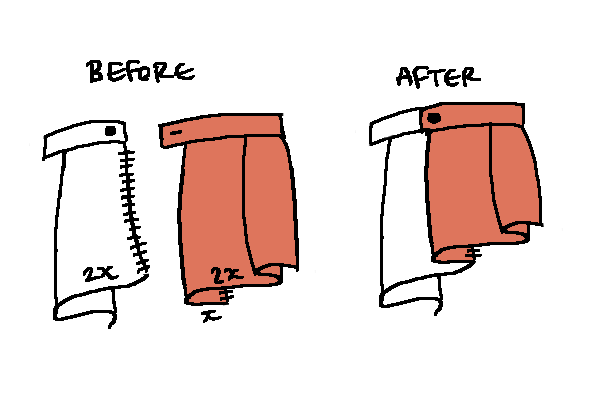 You'll want to sew both ends of the skirt together at very specific spot.. You can go all fancy with the zip if you have experience with this and make an invisible zip, blah, blah, but my preferred method is to hide the zip deep between a pleat as shown above. It's really easy, and when you button or hook up the skirt, the zip will virtually be invisible!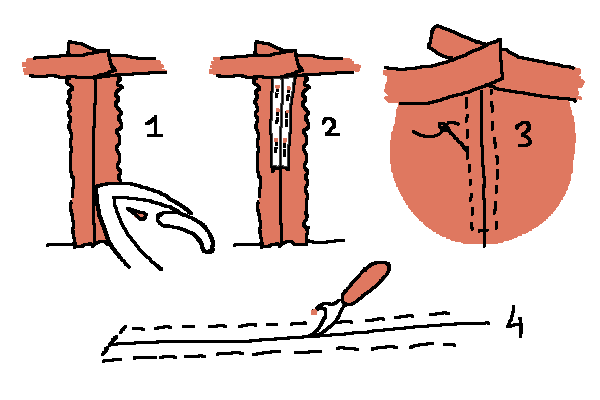 For installing a zip, turn the skirt inside out, and press open your newly-created seam. Lay the zipper face-down so that the teeth are aligned with the seam, pin into place, and then using a zipper foot, stitch around the zip from the right side of the skirt to make sure that the zip stays dead-centre on that seam, removing pins as you go. When you've sewn it into place, just unpick the centre seam to the bottom of the zip, thus revealing the zip, and hey presto!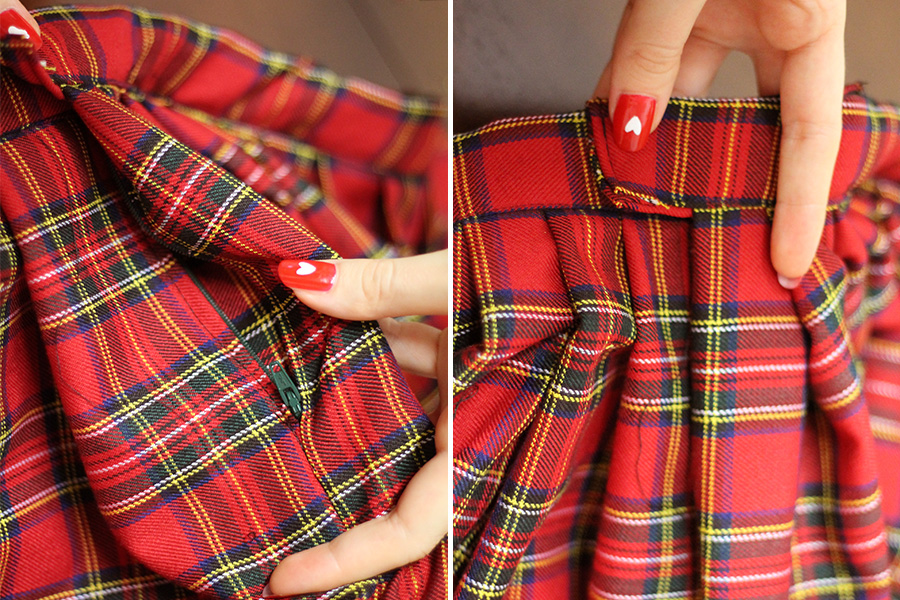 This is what your zip will look like when you've installed it. I was going to install a buttonhole but I was running out of time for a costume party, so I just used a strong hook-and-bar closure, which worked out better, I think. If you're feeling brave, go on and try a buttonhole instead.
Now that you're finally done, there's one more step and that's pressing. Pin down your pleats again and bust out your iron, using the pattern as a guide, if there is one. Crisp pleats make this look, so don't forget this step!
Stand back and enjoy your masterpiece!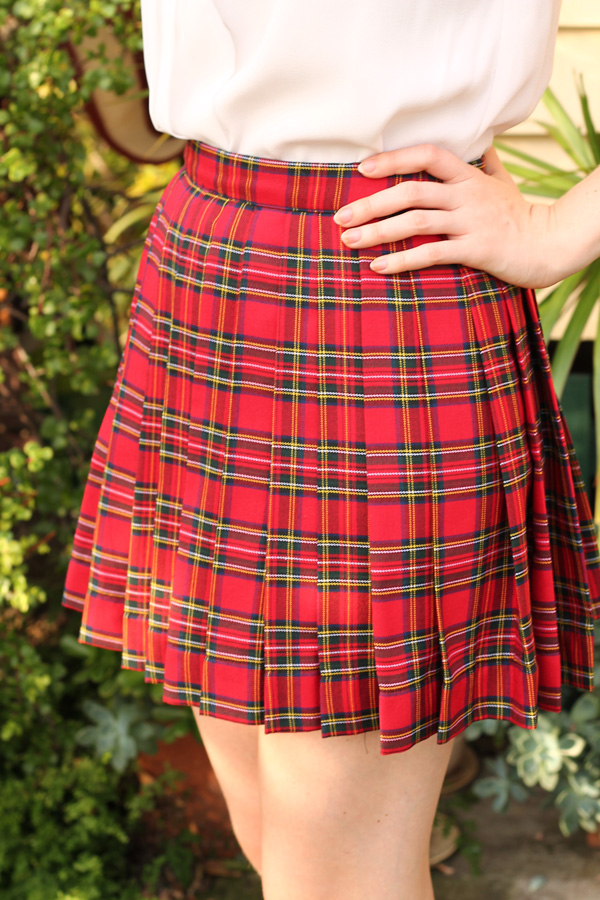 Enjoyed this tutorial? Check out my other tutorials and subscribe to my Instagram or Facebook page to keep up-to-date with any new ones I add! And as always, I love getting your ideas for new tutorials, so if there's anything you're not sure how to do and Google-fu doesn't seem to help, give me a shout and I'll see if I can help.