This is one of those dresses that has been on my mind for years. Honestly, look at my Pinterest, the inspiration has been there forever. Here's one of the few variants of it I've found: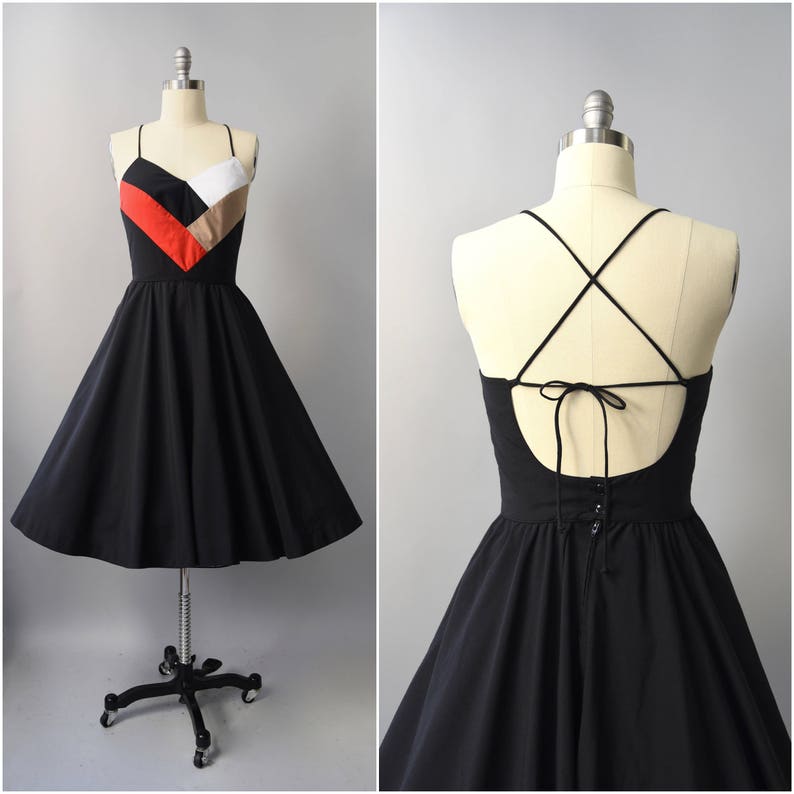 It's a sundress by the designer Lanz from the 60s I believe. That back is very much a signature of Lanz as it's been used across other designs as well. I'm not quite daring enough to scoop out the back like that and what with living in Australia, I don't fancy the tan lines either, so I adjusted the design a little for my rendition. I think I got relatively close! (Except for where I pleated the skirt instead of using a gathered circle skirt, because I wasn't particularly thrilled about the idea of using 5 metres of fabric, it doesn't have to be that close)
I'm a little short-waisted (I don't know when this term started meaning that I have a short torso, but here we are) so the design looks a little squashed, but I'm really happy with how closely it mirrors the original design. I wanted to push the straps out further so they could cover a bra somewhat decently but I was disillusioned by how different it made the design look so instead I designed a more supportive lining for it and just intend to wear it sans bra (or if I must, a strapless one).
Definitely have no complains about the supportiveness, and in fact the only complains I have is that damn gold lamé panel! Lamé is, in my opinion, the worst fabric in the world. It has no give or stretch or structure or anything useful to contribute to this design, plus you cannot iron it or interface it. The original third fabric I picked for this design blended in too much with the striped fabric and I knew it needed to be different. So in my infinite wisdom I chose this abomination of a fabric. And I really regret it.
So with the original third fabric I used it to line the pockets instead. The way these pockets are sewn is a way you don't hear about much, everyone is familiar with the "sew one side of the pocket to each side of the skirt and sew from the top of the skirt to the bottom of the skirt, sewing around the pocket bag", this is nothing like that and it produces in my opinion a truly invisible and flat pocket. One day I gotta make a tutorial for it because honestly not enough people talk about it.
I'm being mysterious in the meantime. If I ever make the tutorial, I'll edit the post and relink it. Or you could just keep track of me on Instagram, since everyone likes those fandangled video tutorials nowadays (I'm still all about written tutorials and always will be).
As a little nod to the original design, I still have criss-cross straps in the back but I did not check them before I sewed them (I checked the length but that was the extent) and it's kind of comical how difficult it is to get into the damn dress with those straps. Never again. They're going to be straight straps next time.
And there will be a next time! I love this design and it's so close to my heart. It fits me like a glove and if it weren't for the stupid gold panel, there wouldn't be a single wrinkle on it. My magnum opus of pattern design, in my opinion. But 2022 is only just begin, so who knows what other dresses I'll spin up this year!