Ahoy there! It's been a while since I last blogged, but I've been busy sewing up a storm. Today I wanted to share with you my latest creation: a sailor collar vintage-inspired Star Wars dress!
The inspiration for this dress came from my love for all things Star Wars and the quickly approaching May the Fourth Day.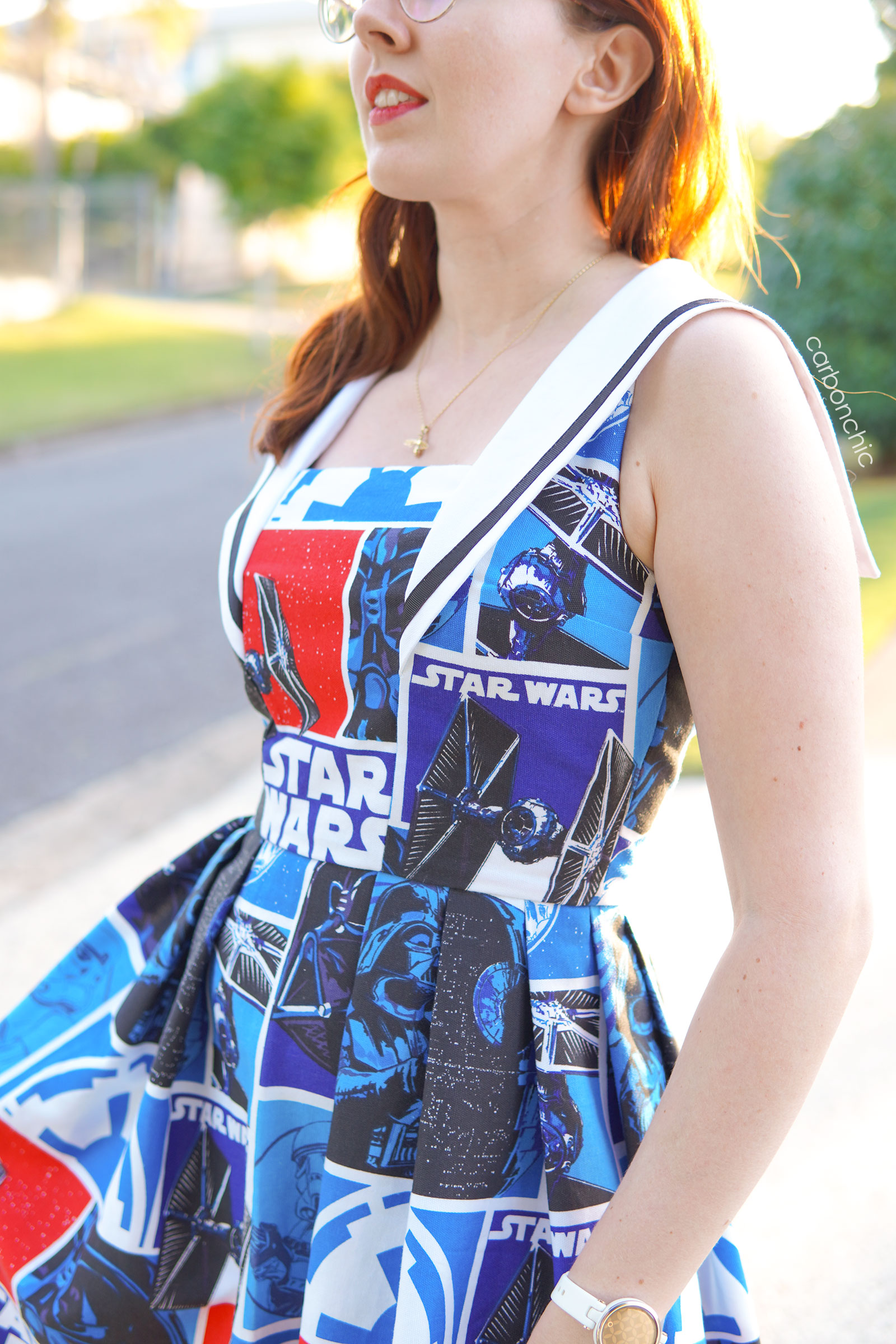 Just kidding, I know nothing about Star Wars and I did it all for clout and my love of sailor dresses. I have vaguely watched all the movies with various nerdy partners over the years and I somewhat remember the plot. Something about a Dark Invader, something about long glowsticks that you bash together because space is dark, y'all.
Though I am a fraudulent Star Wars fan, I am in fact, still a huge nerd, and I wanted to create something that was both retro and geeky at the same time, and what better way to do that than to combine a vintage silhouette with this gorgeous Star Wars curtain fabric I've been hoarding for years?
I started by searching for the perfect fabric, and eventually stumbled upon this upholstery fabric from Spotlight, many years ago. There was new hype coming out about a 7th Star Wars movie at the time (yes I bought it *that* long ago). Eventually I succumbed to ADHD and depression and ended up doing nothing for the movie's release, even though I went to see it in the cinemas.
Anyways, it sat in my closet for years and I sort of had an idea of what I wanted to do with it but I think at the time I didn't really have the patternmaking chops for it. However, since I got word from Twitch that I would be gracing the front page on May the Fourth due to an ANZ Creative Showcase event, I knew this was the perfect opportunity to take it out. And I had just the perfect sailor collar dress pattern in mind.
The dress features a fitted bodice with a sailor collar and a full skirt that falls just at the knee. I used a vintage pattern for inspiration, but completely redrafted the whole thing to omit the dolman sleeves and change the location of the zipper. To get the look I wanted. I added a structured pleated skirt instead of a plain old gathered one, and lined it with cotton lawn to make it more comfortable for everyday wear (though it's a cotton fabric, it's definitely more suited for curtainmaking than dressmaking!).
One of the biggest challenges I faced while making this dress was getting the collar just right. Sailor collars can be tricky to sew, and it took a bit of trial and error to get the shape and fit just the way I wanted it. I did not buy enough fabric and had to piece it, which posed an entirely different challenge but hopefully you can't see the seams in the back. If I had to do it again, would definitely buy more fabric because I completely underestimated how much joy it would bring me. God, I LOVE this dress!
The zipper was an additional pain because while I had sewn this pattern of mine a few times prior, I had used stretch bengaline and didn't require a zipper. I have come to despise side zippers as of late so I moved it to the back. This fabric being canvas-like meant that an invisible zipper was out (and I'm still mad about it) so I did a lapped one instead. Let me tell you. It's so hard to sew a lapped zip that starts and ends in the middle of the seam and is lined and somehow I got there eventually with my all time favourite hobby (not): hand-sewing. But in the end, it was worth it – the collar adds a touch of vintage charm to the dress, the lapped zipper is super easy to do up, and the Star Wars fabric gives it a fun, modern twist.
Now, as I sit here typing this, I'm wearing my new Star Wars dress and feeling pretty pleased with myself. It's not often that I feel so cute in my creations but I am afraid I'm going to find it hard to ever take it off! I can't wait to wear this dress out and about and see what kind of reactions it gets.
That's all for now, folks. Until next time, happy sewing!