I don't dip into this end of the fashion spectrum much, but I've been told that army green is about the only green colour that looks okay on me, and you've gotta try something new every once in a while at least. My bangs are growing out due to laziness with making the trip back to the Brisbane School of Hairdressing, so it seemed appropriate, anyways.
This post serves a dual purpose in that it shows off one of my new bargain buys–The green parka coat from Kmart that I snagged for $19! Of course, it came straight from the children's section, where to my dismay, I found that they had stopped stocking size 16 on their shelves. The horror. THE HORROR. Luckily, size 14 didn't fit too badly, but due to my longer arms and curvy hips, I would have definitely felt more comfortable in a size up.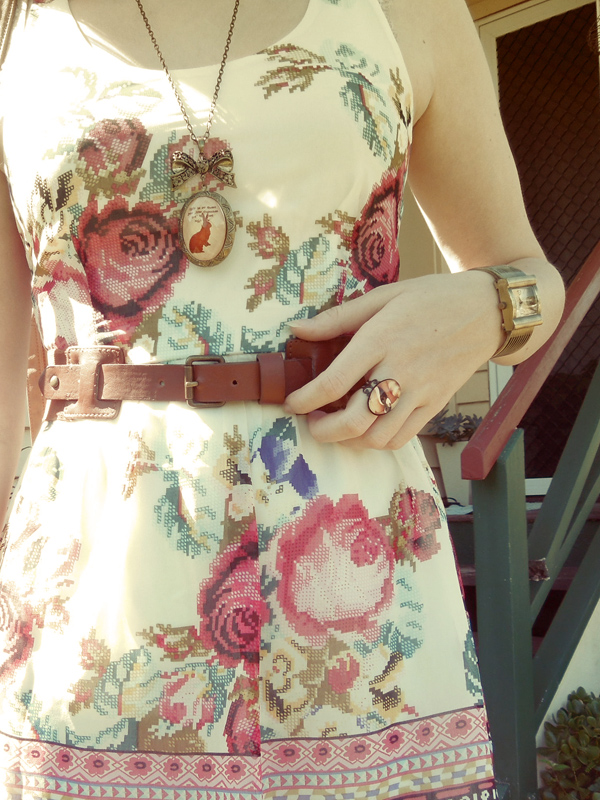 Here's the rundown for the interested:
Green Trench/Parka Jacket – Kmart Kids, $19
Bunny Bow Locket Necklace – eBay, $1.50
Digital Floral Print Dress – Dotti, $15 (I think it's technically a tapestry print, but nerdy Mr Michael is adamant that they're pixel flowers)
Bronze Watch – Mum's, vintage
Raccoon/"Fox" Photo Ring – eBay, $3.50 (There are so many cute animals to choose from that I had a hard time settling for just the raccoon!)
Belt – Dotti, $6.95
Mini Suedette Satchel Bag – Cosmetics Plus, $5 (Bought this years ago when they were relocating in Carindale and it's served me faithfully for such a cheapie–I think they had 75% off all stock during the final days of the sale or something?)
Boots – Target, $25 (I bought these babies over a year ago and they have held up really, really well for pleather shoes–so glad I also bought them in black)
Total: $75.95
Super cool for a super warm outfit! I've been truthfully looking for a long-length hooded parka for a while, but all the adult stores seem to absolutely insist on stocking parkas that are single-layer canvas sort of deals–they don't feel warm at all to me–and I'm not about to drop $50 or more on a jacket that will offer no insulation during Winter. It's only Autumn and I feel the toes on my feet shriveling up half a size already! Luckily, all the children's parkas I seem to come across are heavily padded, and I'm even moreso lucky that I can actually fit in some of them. Target has a similar kid's parka for $39 at the moment, but laying it side-by-side with my Kmart parka, the sleeves seem to be slightly shorter on that one, so for this gangly-armed frugalista, it's a bit of a dealbreaker. Still, would probably be very good for the petite girls out there who need a warm coat for Winter!
Has anyone gone to Target after my last Target-based post? Every time I go there now, I pick up some more stockings for myself (I'm sorry!) so I'm hoping that other frugalistas are having just as much luck as I am!