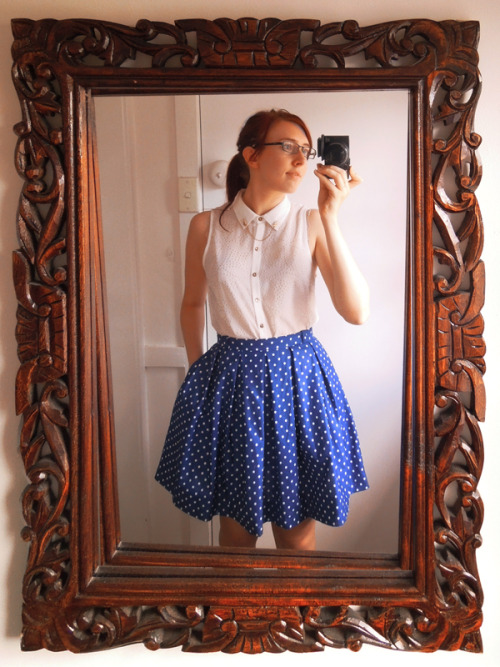 Hello again, readers! Sorry for the fortnight-long departure, I've been busy working hard and getting my craft on.
I just came back from Spotlight with a few bits and pieces to finish up my skirt here, including a clasp for the back (because invisible zips are beyond me) and a decorative button which I may or may not use. I have no patience for sewing button holes and they get in the way of my belts anyways.
Anyways, this is the final product you see before you! I found some really cheap fabric ($5 p/m from memory) at Spotlight and decided to do a draft skirt before I make a black jacquard one for work and this one didn't turn out too bad so I thought I'd show it off to my readers. It features 4 belt loops, side pockets, sewn-in petticoat and a ridiculously complicated fastening at the back that I've hidden behind a pleat because, well, "invisible zips"–HA!
Things I've learned from this project:
Measure your darned actual waist, not the waist of one of your best-fitting skirts. That is why I now have 6 pleats in the front and 5 in the back.
Don't sew on the belt-loops backwards.. don't do that.
Make the pockets bigger and lower to compensate for gangly limbs.
Make a gathered petticoat underneath out of one piece of fabric–I wasn't sure how to do one so now I have a patchwork petticoat. It's invisible but it still annoys me.
Make the skirt 2 inches longer or 2 inches shorter, this is a frumpy length.
Six pleats are a lot of pleats. Four might be a bit easier.
Sew the zip in first and then make pleats.
I do love how this skirt turned out, but I think I'll hem it once more and make it a little shorter. I hate mini skirts a lot and think girls look better wearing skirts that actually cover their bottoms but this is definitely a frumpy length on my figure.
I'll be making the black skirt next and incorporate all of these details so that the construction will hopefully go smoother. I am a complete and utter novice when it comes to sewing, though, so it's possible that I just need the practice.
I was thinking about documenting the steps and posting them up, would anyone actually be interested in reading an Idiot's Guide to Box Pleated Skirts?