Hello frugalistas! This is the dress I wanted to show you–the one I bought from St Augustine's Jumble Sale. I found it tucked onto a little rack on the upper level, where all the international designer brands were held and now it's safely tucked in my own wardrobe.
From what I could find out, it was made by a French label in the 80's (that would explain the shoulder pads). It's well-structured, fully-lined and made from gorgeous, thick, crepe-de-chine fabric that resists wrinkling and keeps you warm in Winter (I am also wearing a thermal t-shirt bodysuit underneath the blouse, so that helps).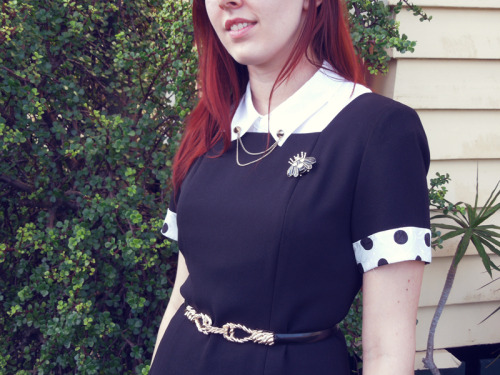 This is also a good opportunity to show off the other glasses I chose from Specsavers (more pictures near the end of the post)! These frames are from designer Alex Perry, and I love the gold flecks around the edges of the glasses–they remind me of feathers, a little bit–and the tortoiseshell arms are endlessly stylish.
You know I love my accessories.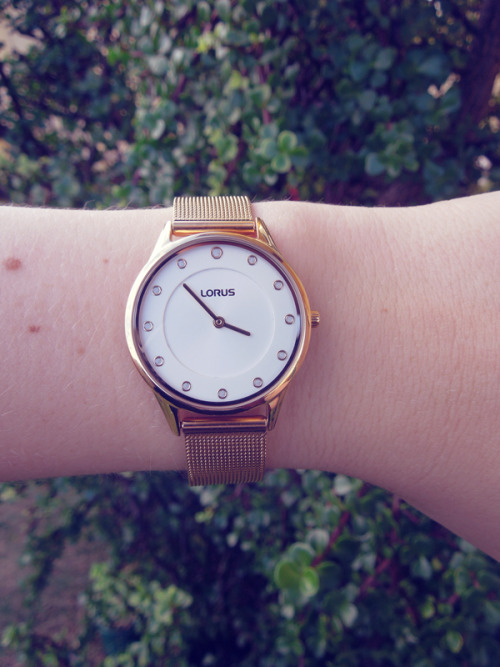 This is another new thing I wanted to show off–my gold mesh Lorus watch is a graduation present of mine and I utterly adore it. It has a really slim profile which means it doesn't feel too bulky on my wrist but, as you come to expect when you have wrists that disappear when viewed in profile, the band is abnormally long and adjusted to the tightest setting, which leaves an annoying excess of strap wrapped underneath. I've been trying to find a place that will cut mesh straps down to size, but I'm starting to feel this is an impossible ask.
Cheap or expensive, I always have this problem with mesh watch bands (this funnily enough gets even worse the more expensive the watch is, e.g. Skagen). Why are they so damn long? Who has wrists big enough to fit the loosest setting anyways? Jabba the Hut?? WHAT KIND OF MONSTERS ARE WE MAKING THESE WATCHES FOR??
On another note, these tights are one of the varieties you can get from the Reject Shop for a couple of dollars. They last a fairly decent time and I only managed to destroy my last ones because I seemingly lose all coordination when I'm around sharp objects. Dammit.
What I Wore:
Stud Collar Clips – eBay, $1 (Bought them ages ago, wear them all the time, yet never featured them..)
Black and Gold Bee Brooch – Lovisa, $3.30 (3 for $10)
White Flocked Polka Dot Blouse – Target, $10
Gold Nautical Knot Belt – Colette, $5
Le Zinc Umbrella Pleated Skirt – St Augustine's Jumble Sale, $5
Gold Mesh Lorus Watch – Graduation gift (similar here)
Sheer Black Polka Dot Pantyhose – Reject Shop, $2
Black Kidskin Leather Heels – Mascotte, $40
Total: $66.30
What's weird about this outfit is that the collar clips and belt are utter favorites–things I've worn a million times over–and yet they've scarcely made an appearance on this blog. That's definitely about to change!
Anyways–watch out for my Specsavers review, coming up after this break.