Once upon a time, I used to be a huge tomboy. I acted like a boy, got a pixie cut, had a strange and unusual affinity with gay men, and wore skinny jeans in every colour of the rainbow. While I like to think of myself as quite feminine nowadays, I still adore my mother's boxy blazers and enjoy a good pant suit every now and again.
Now that I've lost a stack of weight (10KG!) over the last couple of months, I find that my mother's retro clothing no longer fits properly and I'm having to peruse through the smaller vintage sizes on the op shop racks, and that's exactly where I found this gorgeous blazer. I've spoken at length about redheads wearing red and how it's generally an ill-advised style choice, but I've been more drawn to the colour as of late, and who can resist a military-inspired coat with double lapels like this one, anyhow??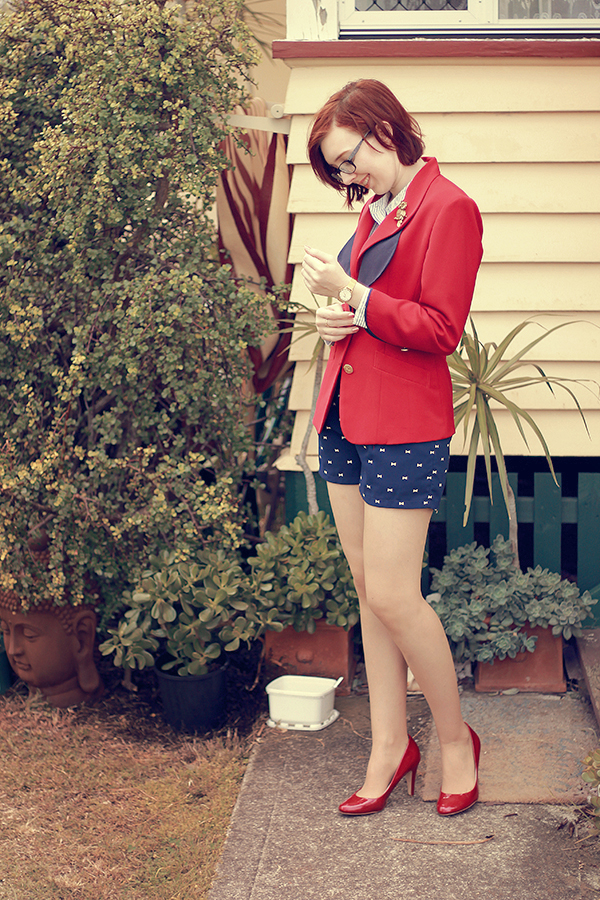 Paired with white and navy, and my trusty UK satchel, I feel like some kind of pattern-clashing fashion patriot. Or maybe I'm just finding any possible way to cling onto the Australian Winter before the heatwaves hit. At least I'll always have air conditioned comfort in shopping centres, even if I don't tend to shop in them very much anymore.
This blog might be taking yet another surprise turn, as well–I'm currently looking for full-time work, dressing to the nines, and asserting my skills towards prospective employers. It's been a while since I looked; I didn't know if there was a market for freelance designers trying to gain full-time employment and as such I was also probably a little scared to look, but I've been very pleasantly surprised with the response I've received from businesses! I've no doubt I will find a permanent placement before the year is out.
So that means I'm going to have to dress the part (sort of).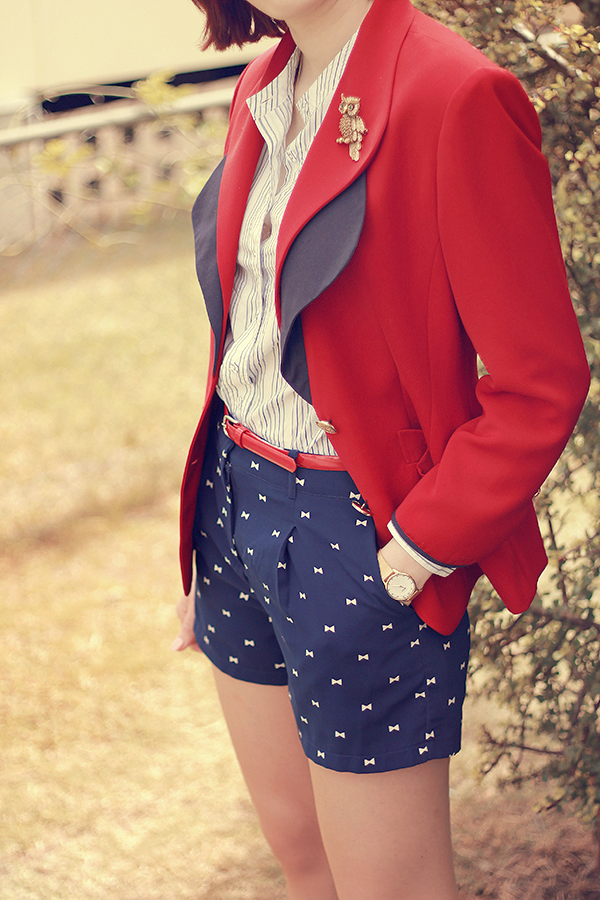 How ridiculously cute is that brooch? This is what I wore:
Red and Navy Double Lapel Blazer – Salvos, $7 (I think? I bought it ages ago!)
Country Road White and Blue Striped Blouse – St Augustine's Jumble, $2.70
Bronze Owl Brooch – AliExpress, $4.25 (Now ~$7)
Red Patent Belt – Dotti, $3.50
Navy Bow Print Shorts – Temt, $25
Betts Token Red Patent Heels – The Iconic, $21
Total: $63.45
I would have also listed the UK satchel, as it was an utter bargain buy from AliExpress for only $17, but for the life of me, I cannot find an active listing. This makes me all the more pleased that I snapped it up when I did.
Anyways, wish me luck for my following applications and interviews–I have my fingers crossed that by the time the mulberries disappear from our tree, I will be buried under a mountain of paperwork with no time for a social life and the complications it brings! I leave you today with a picture of Hugo suspiciously eyeing off a mulberry.
Until next time!