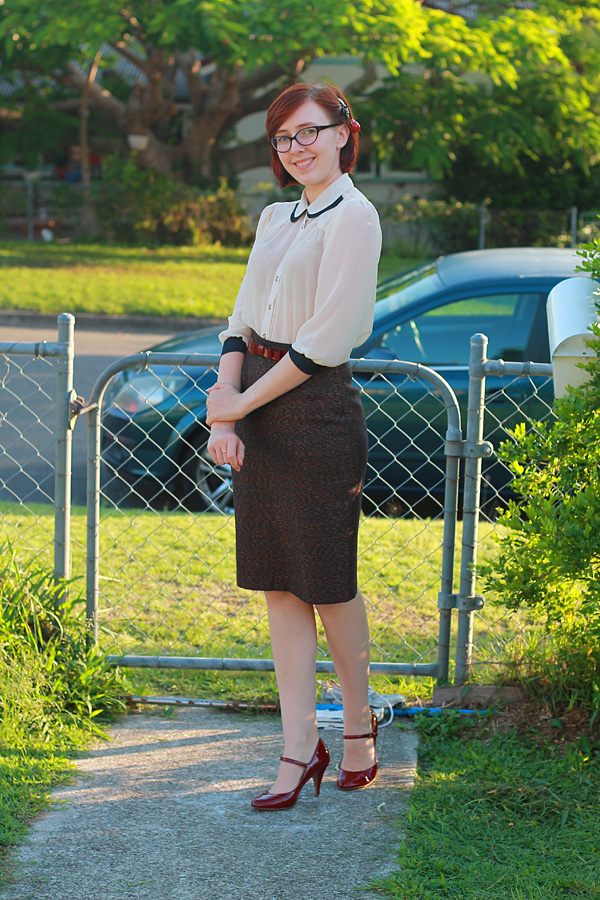 (Sing the title in your head like the opening of "Walk Like an Egyptian")
Do you ever have one of those days where you wake up, throw something on, look in the mirror, and wonder if your fashion instincts are trying to tell you something? No? Just me?
If my instincts could talk, with this getup, I'm fairly sure that they'd be telling me to quit my day job and become a librarian.
A sexy librarian.
A Russian librarian.
I don't know where I'm going with this, it's Summer and I live in Australia and the heat has gotten to me.
Yet, I find myself in this strange, perplexing position of having to dress like I live in the Northern Hemisphere and ride my Vallhund-driven sled into work every morning. Alright, I may be exaggerating there, but it's true that I had long forgotten how cold it is having an office job. I didn't think I shared any genetic code with lizards, but I'm starting to think I have cold-blooded ancestors somewhere along the line, because coworkers be rocking up in to the office in tank tops and shorts and I'm dressed up in woolen coats and tights like I'm in the bloody Ice Capades.
That brings me to this vest! I made wore this ensemble so that I could say with the utmost confidence that the purchase of this children's Fair Isle knitted vest with faux sheepskin trimming was absolutely worthwhile and not in fact a huge waste of $17.60. Yes, you see, I have worn it with two outfits, therefore it was a financially sound decision, let's go with that.
(Seriously guys, give me some ideas on what the hell to wear with this thing, it's too cute to stay buried in my closet.)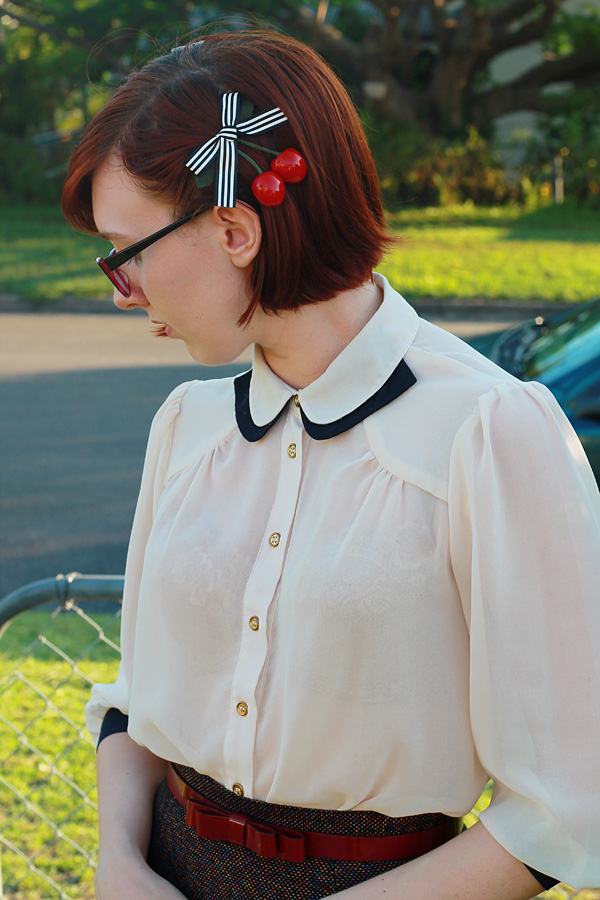 A couple of other cool purchases recently are the cherry hair clips and the rainbow-woven wool jacquard pencil skirt I got from Endeavour Retail.
It looks like a mottled brown from a distance but it's actually black with thousands of different colours woven through it. It's the perfect shape, fit, and length, and I had to have it. Ever go absolutely nuts for something you see in a shop, but it, and invariably find out that it matches with next to nothing in your closet? Welcome to my life, filled with fantasy pieces that would make a vintage collector squeal that I never get to wear because I don't have the right shoes or the right handbag or the right belt.
Some would say this is very anal behaviour, but try telling that to someone who has a collection of over 50 different types of belts..
Speaking of belts though, I love love love this one here. It's never really been featured here because the closing mechanism has annoyed the crap out of me. This belt had rivets in the back and they were facing OUTWARDS instead of inwards. So the damned end that I had to pin on top instead of tucking underneath would just go flippity floppity all over my outfit if I didn't adjust it to the very loosest setting. Major kudos to my blog photographer Robert for somehow magically removing those blasted things so I could screw in some removable rivets that faced inwards instead. It's my minor rant of the day but still something that plagued me for months nonetheless (such a first-world problem, I'm sorry..).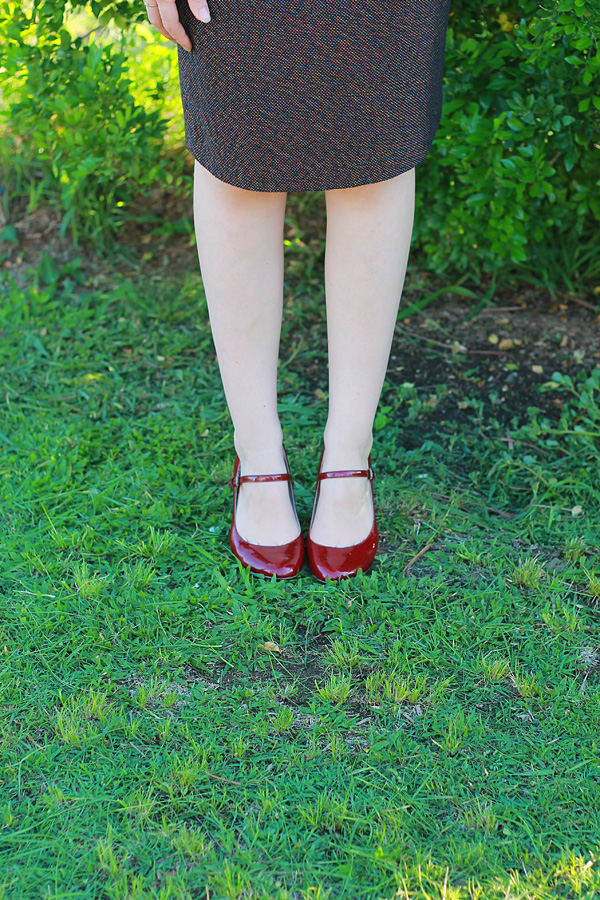 What I wore:
Black and White Striped Cherry Hair Clip – AliExpress, 50c (Lots more colours, and with bananas too)
ASOS Double Collar Blouse – eBay, $10 (Old purchase, similar here for $6)
Jacquard Vest with Sherpa Trim – Target Kids, $17.60
Trent Nathan Wine Patent Leather Bow Belt – Myer, $7.50
Kara Rainbow Woven Jacquard Skirt – Endeavour Retail, $12.95
Patent Wine MaryJane Heels – Zu, $30
Total: $78.55
Anyways, coming up soon on Carbon Chic is another refashion tutorial, and BIG BIG news–I'm going on a road trip to Sydney on the weekend to visit Annika of The Pineneedle Collective! I'm naturally very excited about this, and can't wait to share all the little crafting, sewing, and thrifting adventures that we're planning. For someone who has pretty much never left Brisbane, this trip is going to be amazing in more ways than one, I'm sure! To keep track of my adventure in Sydney and all my other adventures, check back here and on my Instagram account–It's going to be a busy place over the weekend!