"Coordinated set" didn't sound very good, so I decided to call this cheery 50's ensemble a play suit. Note that I didn't call it the singular word "playsuit", similar to how a playsuit is a singular item of clothing. No, this thing is decidedly a two-piece, two-word outfit.
With those semantics out of the way, how freaking cute is this fabric?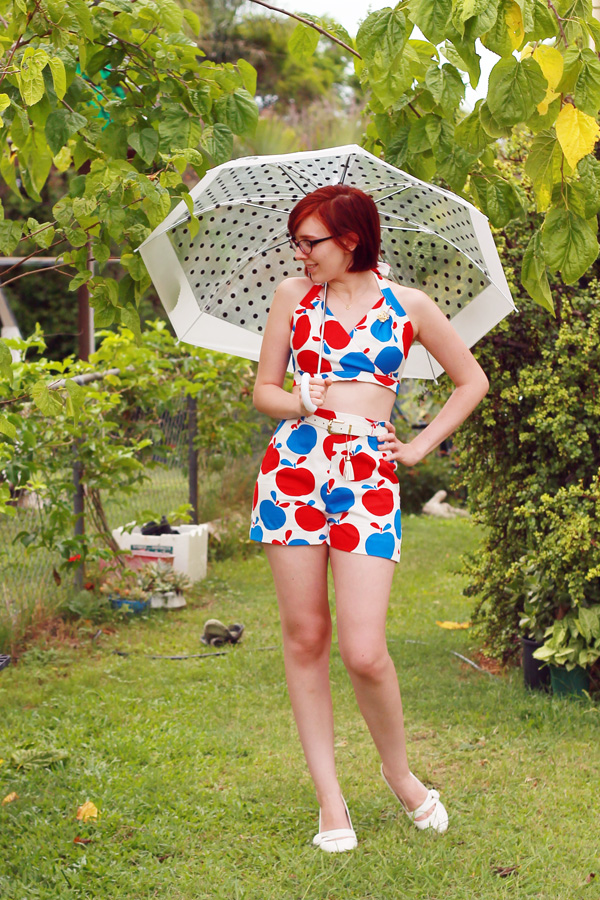 I have this chronic problem where I find really cute fabric on special, buy a little bit for a little project that I haven't yet decided on, and then when the fabric sells out, I decide I want to use it on a project that requires just a little more fabric than I bought. This happens more often than you would think. (Hello, gorgeous mint teapot linen that I had to buy for again a few months ago!)
Needless to say, with each pattern piece needing to fit precisely on my 1.2×1 metre piece of fabric, cutting was a nightmare. I figured the worst I could do was waste $6 worth of fabric, so I laid everything out carefully and gave it my best shot anyway.
This was the project that I had worked on over my little holiday down in Sydney with Annika from The Pineneedle Collective, and I was super exited to get buddied up and do some sewing! I used my retro blue and red apple-printed cotton and she used a cool vintage bed sheet with cars all over it.
I had cleverly left my sewing machine back in the hotel room (doesn't everyone get the urge to do a bit of midnight sewing in your room on your holiday in a strange city?), but Annika kindly loaned me her's and we were on our way!
I tell you what, for her first time following directions from a pattern, Annika was doing an amazing job. For our play suits, we used two patterns–The shorts from Style 3251 and the bra tops from Simplicity 1426. Annika was doing view C while I did view A (because of certain fabric restrictions, ha). Seeing how brilliantly her top turned out, however, has made me long for a dress with a similar-shaped bust! But that's another post for another day.
By the end of the day, Annika had proved herself a glittering seamstress prodigy while I was decidedly more.. frustrated with my progress.
I had to finish this project at home, but I'm so glad I finished it at all! Annika loaned me the use of her horrendously loud overlocker (all three of us practically jumped out of our seats every time it started up), but I only had use of it for the top–The inside of the shorts I finished off with bias tape, which I henceforth decided to use for all projects ever after. (Seriously, they look couture or something from the inside.)
Ta-dah! Even though it was raining at the time, I was desperate for photos so I stepped out into the chilly air and Rob captured a few shots of the final outfit for me.
I made a Pepsi button for fun. It makes me giggle every time I look at it. Ahhh, Pepsi.
And despite Daiso Japan not stocking smaller button kits EVER, I managed to pick up a refill set and hand-punch these babies, using a lot of brute strength and banging with the end of my craft scissors on the floor. I think the results were well-worth the effort, but the dents on the floor probably disagree with me.
What do you think? This is more of a beachy outfit for myself, as bare midriffs are not really something that I sport on a daily basis, but it was still a highly enjoyable project nonetheless. Or at least the results are enjoyable. (The actual project was an ill-measured pain in the petunia.)