I never wear turquoise! Is it my colour? I haven't quite decided yet.
I'm still experimenting with my office style–trying to keep it somewhat work-appropriate but still unique to me. One of my workmates calls me the "office fashionista", which is kind of nice, considering that they could be calling me the "office sideshow" with all the crazy-colourful ensembles that I'm trying to incorporate into my everyday workwear.
It's hard to strike a balance when your office is so cold–I've taken to leaving a pink double-breasted tweed woollen coat I bought from the church jumble (for $5!) permanently attached to the back of my chair so I don't have to carry a big pink coat around me wherever I go. Of course that means no matter how sombre and serious my outfit is, at some point during the day, I will be walking around in a bright pink oversized coat.
That being said, I think this outfit is a pleasant mix of serious and playful–I mean, just check out those heels! I haven't been able to take them off my feet since I bought them.
As a bonus to today's post, I decided to include a few pictures of Hugo goofing around with me. He can be such a photogenic dog sometimes. Of course, other times he's just like his mommy with one eye half-closed and a derpy look on his face, but that's just his lovable personality right there!
If you ever come to visit, ask him to give you a hi-ten. Stubby as his legs may be, those are his speciality.
What I wore:
Gold-Plated Bee Brooch – AliExpress, $2 (On special–I also bought the silver variety!)
Linen Pencil Dress – Kmart, $9
White Tassle Belt – Forever New (outlet), $6
Retro White Mary-Jane Heels – Salvation Army, $8
Simple, and classic. I didn't give you an accessories rundown in the previous post so I made up any excuse to wear these shoes again so I could tell you about them! I got them from the Salvos a little while ago but the lining had fallen off so I'm not sure what brand they are. All I know is that they say size 7 on the bottom and yet they fit my size 8.5 feet perfectly and I can walk around in them for hours without getting sore. The most important characteristic in any shoes you own should be comfort factor. If they hurt my feet, I don't buy them.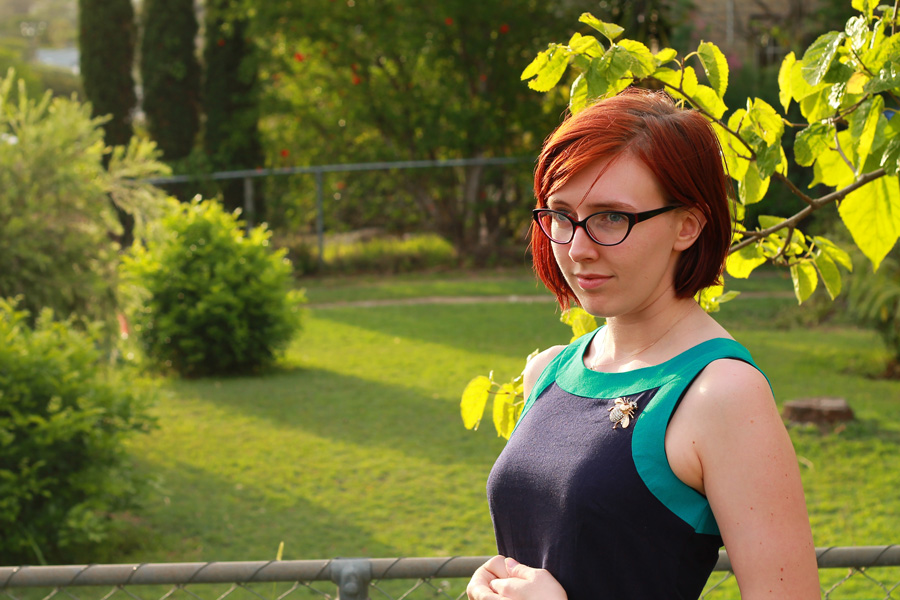 If you'll allow me to rabble on about a different topic here, I am proud and excited to announce that I have officially finished sewing my first dress EVER! This is a pretty big step for me as I've been sewing for less than a year and have only recently jumped into using patterns. I'm hoping to feature it in my blog pretty soon, and also start compiling a list of resources for the thrifty seamstress–Places to buy fabric and other sewing-related paraphernalia on the cheap.
I'd love to get your feedback on it first though–For anyone who is looking to take up sewing, what's something you struggle with most?