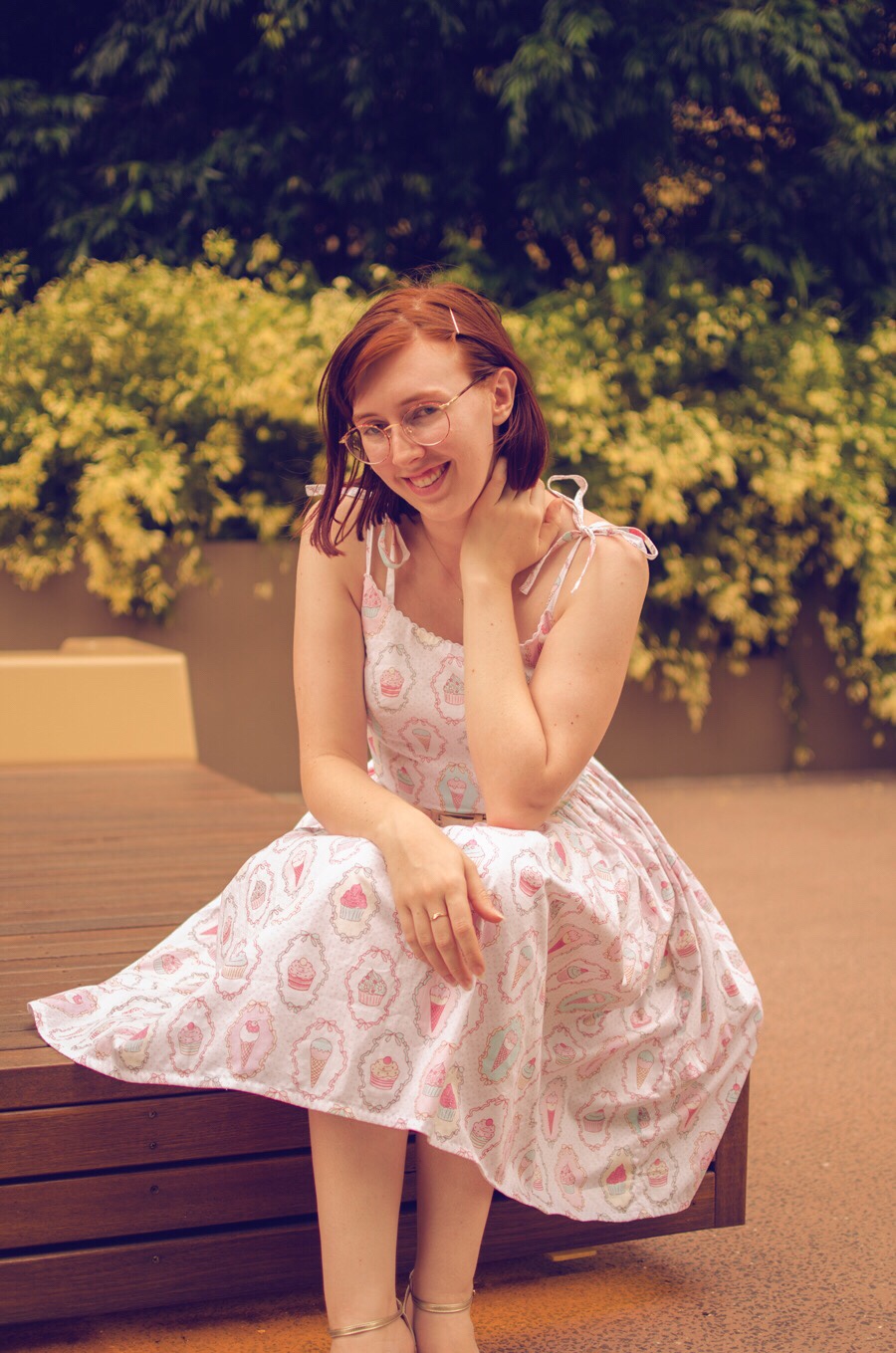 Welcome to 2018. It's been a while! An embarrassingly long while, even. At first the thought of posting when I had so much else going on (reruns of Frasier, pretending the alarm clock never went off in the morning, cleaning lint from my bellybutton) seemed utterly exhausting. Then months passed and I could no longer face the humiliation of posts promised but none delivered, and tutorials teased but no actual sewing going on. I went through jobs, breakups, living quarters, and put everything ahead of my blog and my friends, forgetting those simple joys in life which had once led to so much happiness.
But not everything has been gloomy! I did a huge amount of sewing in 2017. I am conquering my fear of the dentist and even got braces. I'm earning passive income. I moved out of home, and I can now cook at least 12 new dishes (basically, I should be applying to Masterchef). I got a new job with a kick-ass boss. I am more in love than I've ever been in my life. And I'm happier than ever.
Without going into too much detail, here's one of my projects from late 2017.
Pattern: Gertie's Butterick 6453 (B6453)
Fabric: AliExpress (if link breaks, just search "ice cream fabric", it comes in more colour ways too)
I am pretty proud of this dress. I am loathe to admit that this is my first time ever doing a full bust adjustment (FBA). There are many FBA guides on the net so I won't bother with something like my own tutorial, but I highly recommend this one on Craftsy. It made the whole process super easy, and as you can tell, the result ain't too shabby. I previously thought doing those sorts of adjustments were super hard, so I often opted to pick patterns with cup sizes drafted in, but now I know not to fear the FBA. For now, anyways, until I start getting into some vintage couturier patterns.
To review the pattern itself: It was super duper simple to sew up. I'd consider it a quick day project. I ditched the skirt pattern pieces (because srsly they are rectangles, people, stop being so scared of rectangles) and made this baby out of 1 metre of fabric. No lie, I swear. Somehow, the gods enabled me to do some fussy cutting and pattern matching as well, despite the shortage.
I did, however, omit the facings and construct a full voile lining for the bodice, because facings are the devil. The pockets are made out of lining fabric too. In addition to omitting the facings, I also changed the straps to tie straps for extra cuteness. Why anyone would want adjustable straps on their handmade garments is confusing to me (unless you're mass-producing these babies).
As usual, I did a swayback adjustment too and ended up chopping off like an inch or two off! I never even knew that adjustment or issue was a thing a few years ago (I just thought that was how normal dresses were supposed to fit) which is one of the reasons I'm such a huge proponent of constructive criticism. Ain't nobody gonna learn if they don't know what they don't know that they need to learn (I'm sure there's a neater way to phrase that).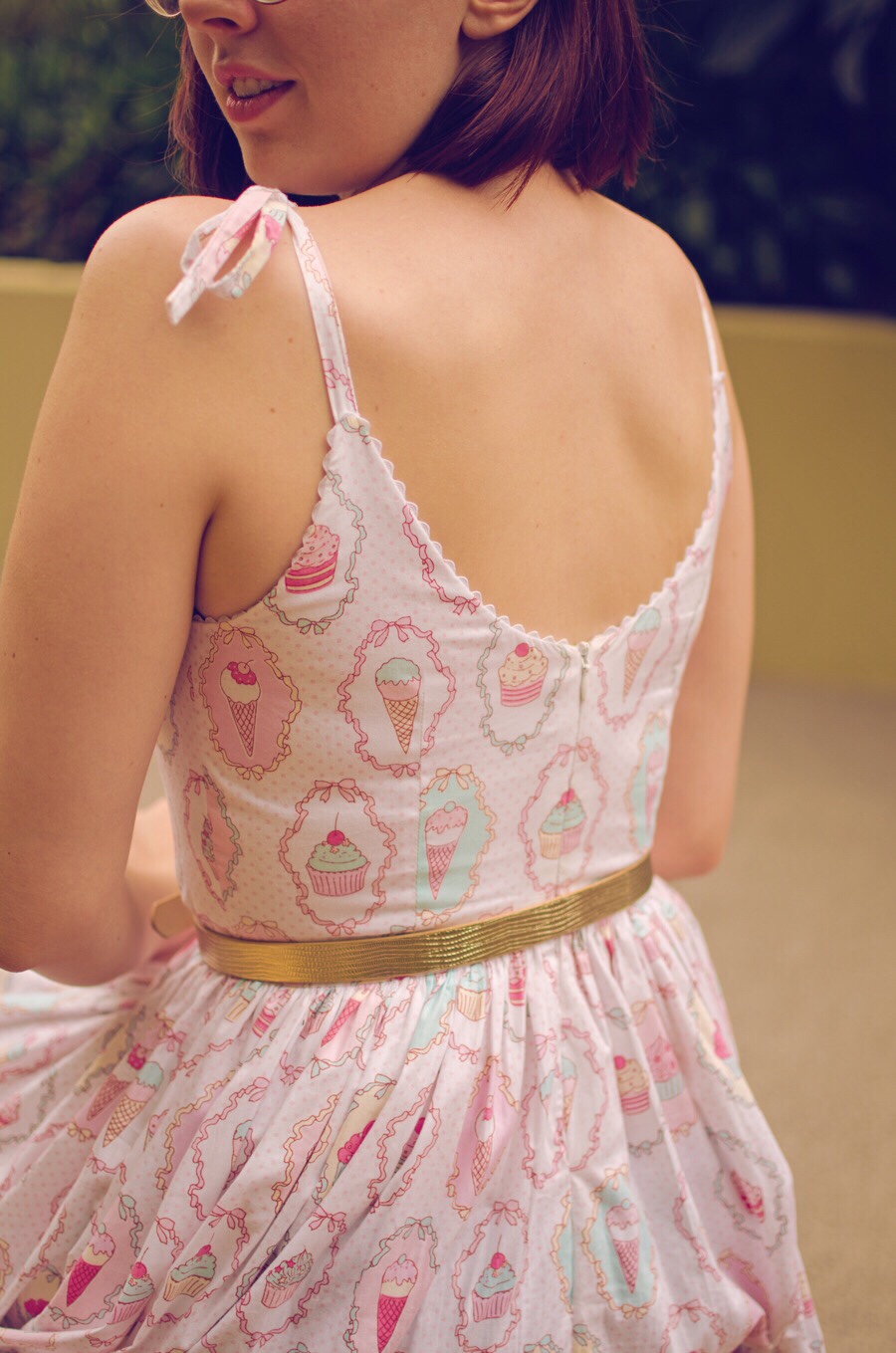 A small detail that I added in to add some extra whimsy was the ric rac along the edges of the bodice. It's ironic that I've used ric rac in projects a few times now, because I secretly hate how most home sewers use it on their projects. Yet, somehow, I own a 100-yard spool of it. Confusing. Anyways. One of a few of the only acceptable applications of ric rac in my book are along seams, to look like scallops, because everyone loves scallops.
Ugh, these shoes kill me, I love them so much.
Anyways, I won't make any promises when it comes to blogging. While I'd like to start up again, promises only lead to disappointment and pressure, and we don't want any of that. I don't even know if anyone's still reading after all those years, though I appreciate random messages on my Facebook page asking me where Carbon Chic has gone, and they're little happy reminders that I'm not as alone as I may think. Here's to 2018, whatever it may bring.