I feel like I bemoan this fact every time one of the Big 4 (Simplicity, McCalls, Butterick, and Vogue) release a new season. Hold onto your hats, I'm about to go on a rant.
Where the heck are the repro sewing patterns?
And less importantly, who keeps greenlighting retro apron patterns, honestly? Am I the only person in the world who has no interest in sewing aprons?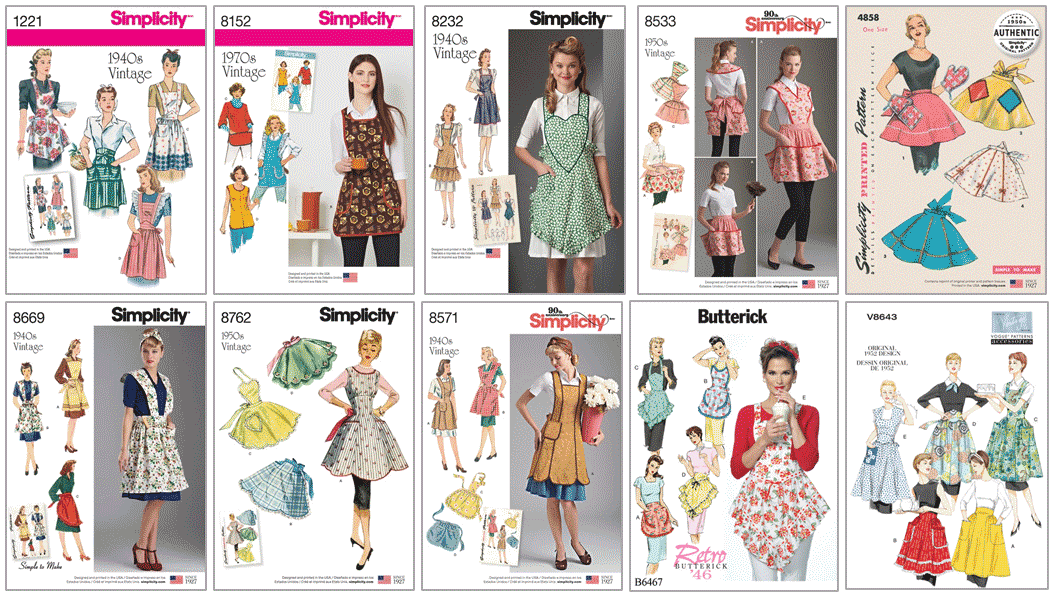 As someone who adores the vintage silhouette and patterns that help make a dent in my impulse-bought novelty quilting cotton collection, I feel like commercial pattern companies are trying their darndest to make me miserable lately.
Two problems, as I see them:
Boring modern designs.
If I see one more shapeless, frilly, cold-shouldered creation I'm going to gouge my eyes out. Oh look, a shapeless top. Oh look, another shapeless top. This time a shapeless dress. Now they have the same shapeless dress as last season except it has a ruffle on it.
When they DO release new retro styles, they release styles that even vintage collectors don't want.
If you subscribe to any vintage pattern buy/sell groups on Facebook, you'll know what I'm talking about. The patterns that sellers can't give away for free. Darted pencil or a-line skirts and basic darted bodices with interchangeable necklines, collars and sleeves between patterns. Skirts that you could use a calculator to draft yourself. Bodices where if you changed the neckline and removed the sleeves you would just get the same pattern over and over again. I get these are quick and cheap to produce, but if I can modify the neckline of another sewing pattern I have to achieve the same look, why would I keep buying new patterns that are the same as every other sewing pattern?
Simplicity are big transgressors in  both of these areas. GOLLY GOSH, THANK YOU FOR ANOTHER POODLE CIRCLE SKIRT, THE LAST 47 YOU PRODUCED PALE IN COMPARISON TO THIS NEW ONE.

Is this what sewers now want? (No, really, I actually want to know, is this what you want?)
What do I want? I want to wear clothes that nobody else has–something you can't buy in the stores where the differentiating factor is not just the fabric.
So that's why I've stopped buying new patterns. After last year, I purchased all the outstanding ones from seasons prior on my wishlist and I have not bought a pattern from the Big 4 in over 6 months. I'm in that stage of my life where I'm no longer a beginner seamstress (I haven't considered myself a beginner for years now) and I want to start looking at more advanced, interesting styles that are fun and challenging to sew and make people wonder how you made it. Magic with patterns.
If you've been watching my Instagram lately, you'll notice that I've started to show you more of my patternmaking adventures.
I have been drafting my own stuff for years, and I encourage others where I can to dive into that world without fear. It's not hard to draft basic things yourself. Nowadays, if I'm buying a pattern for myself, it's usually vintage, and I'm buying it because I haven't found a design like it anywhere else. And drafting it myself would just be too painful.
Why do I self-draft now? Because I'm madly in love with crazy pleating and seamwork of ye olden days. You just don't see intricate designs like that anymore, from anywhere. That is why I decided to write this post, not just because the vintage offerings pale in comparison (when they offer them). Even the modern patterns are as boring as the poodle skirts they replaced.
Maybe this is the turning of the fashion tide with sewing–retro is out, sleek, shapeless, and simple modern is in! But I know there is a community of active retro sewers on Instagram who are still as in-love with those old-timey styles as I am–an entire demographic–that just aren't being catered for anymore. I find that sad.
What do you think, dear readers? Is it just me, or are any more of you out there who are yearning for more?