Recently, somebody had the nerve to tell me that my sloper was too tight.
Ex-cuuuuuse me. Since when are girls being discriminated against for the tightness of their slopers? I'm not going to lie, I like a fitted bodice.
When I was constructing my latest sloper, I was very meticulous about the fit. Finally, thanks to Invisalign and two square meals a day, I'm at an incredibly stable weight. I'm not dropping, I'm not gaining, it seemed like a good opportunity to try and nail down that perfect fit.
I think I did a fairly good job. My number one goal is zero wrinkles! (Besides the ones where I'm bending my torso and whatnot, nobody can eliminate ALL wrinkles.) That makes me pretty happy with the fit of this dress in particular.
I quickly whipped up the design after losing an auction for a Pauline Trigere McCalls pattern from the 1960s and after much sobbing I realised–you know what? I can make this myself. And make it I did. I used some Maywood Studio quilting cotton that I bought years ago that honestly should have probably been made into a quilt, but it was always going to be a test run, so it's okay.
I'm so happy with how it turned out. I think it's even better than the original design, if I may be so arrogant as to say. I added lower panels at the back to connect with the panels in front because I wanted something interesting for the back.
The zipper really let me down. Normally, my weird method of inserting an invisible zipper never fails me, but what I didn't count on was how cheaply-made this zipper is. Sew as close to the teeth as I may, any tension pulling the zipper apart at all immediately revealed the teeth, UGH. You might be thinking "That's because your sloper is too tight, Demi". SHHHH. It's not because of that. My other zippers don't do this and I can prove it, I got a crummy batch in that last order, I just know it.
It makes me sad because I even went to the effort of patternmatching down the back. And trust me, that was hard, because half way through constructing the bodice, I realised I didn't like the polka dots at the top and the floral pattern at the bottom, so I had to use that as the lining and recut new pieces in opposite colours. And if you've been following my sewing sagas up until now, you know I never buy spare fabric, I buy just enough to approximate one dress and that's it.
The dress is like an inch shorter because of this, but it's fine, we don't talk about it. Halfway through I realised that it was looking a little plain so I cobbled together enough polkadot fabric to make some bias binding and a bow and I think it looks really effective.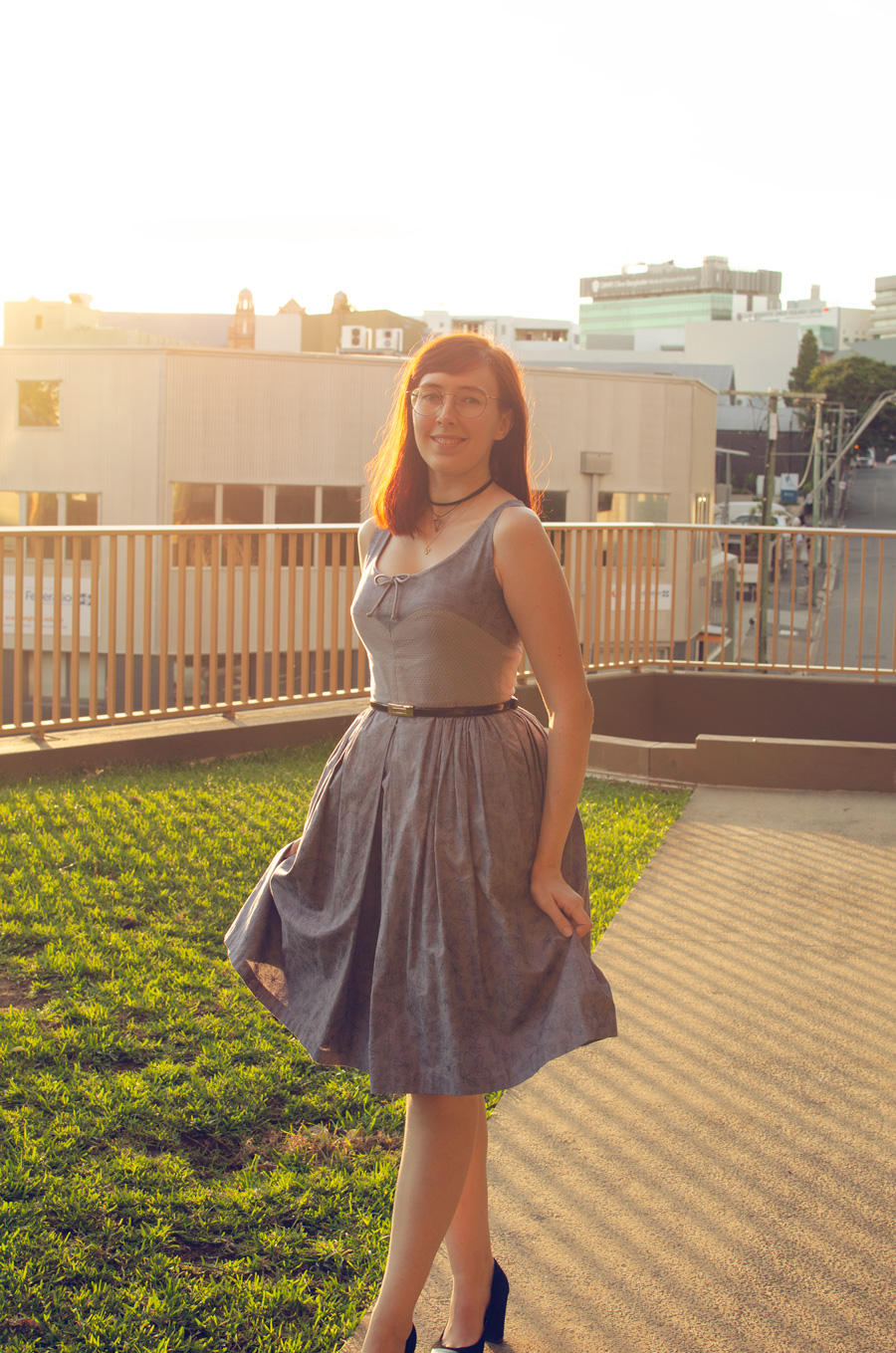 Before you ask, yes it has pockets.