Happy Valentine's Day! I know I'm late to the party, but I completed this before the actual day, so that has to count for something, right?
While I got a lot of flack for this from my beloved Imgur community, my inspiration was Mattel's 80's Loving You Barbie dress. I saw this coordinating fabric and knew I wanted to replicate the contrasting bodice and sleeves but in a more 50s style, to tone down those monstrously puffy sleeves.
I bought the fabric from memory and forgot the the skirt was actually white, but it's actually pretty lucky that I didn't make the skirt white because it was quite transparent.
Ladies and gentlemen, this was not the right kind of fabric for this dress. So even though it "barely" looks like the source image, I still had fun creating my Loving  You-inspired dress. Haters are gonna hate.
If this dress looks familiar to you, it's probably because you've seen me sew something with this pattern before. It's my Easter Dress again! No, it's not the famous Cambie dress, it's Advance 7079, with a lot of modifications. I used the neckline and sleeves (straps?) and used my own bodice sloper, because the Easter dress was (and still is) TOIGHT. Turns out, I took out too much ease in this rendition too so it ended up too tight anyways. It's lucky I didn't use some very good fabric here.
Speaking of the fabric.. Have you ever been subject to the Worst Fabric In The World before? I have, it's this fabric. I bought it from a seller on Facebook and it was legitimately the worst fabric I've ever used. I already knew it was a poly/cotton blend but I was expecting more like the school uniform quality that I'm used to for my muslins, not… this.
"It looks lovely! What's wrong with it?" you exclaim in surprise. WELL. Let me tell you what. I washed that red fabric by itself (thank god I didn't wash it with the white) and it let out a lot of colour. Not only did it let out a bunch of colour, but it did so inconsistently. So if you look really closely in some of these photos, you can see some white/faded streaks on the fabric. I have no doubt it will continue to let out colour should it be washed again, so I probably won't be doing that again.
You can see the worst of it on the back of the skirt here. Also, during my time handling the fabric while I sewed the dress, I experienced so much dye transfer to my fingers that it was wild. My fingertips were bright red after every stream spent working on this dress.
I'm still pretty happy with how the photos turned out, even if the dress is probably going to go straight into the H&M fabric bin the next time I go (sans zipper, which will get reused for something else).
I got a lot of flack for that also, and I know it's the American way to foist your problems onto the poor, but donating the dress to charity was just not a suitable option. Whomever bought it would never be able to wash the damn thing or sit on white upholstery, and I don't want to ruin someone's couch or undergarments. To me, that's worse than throwing out a garment that was destined for the fabric bin anyways.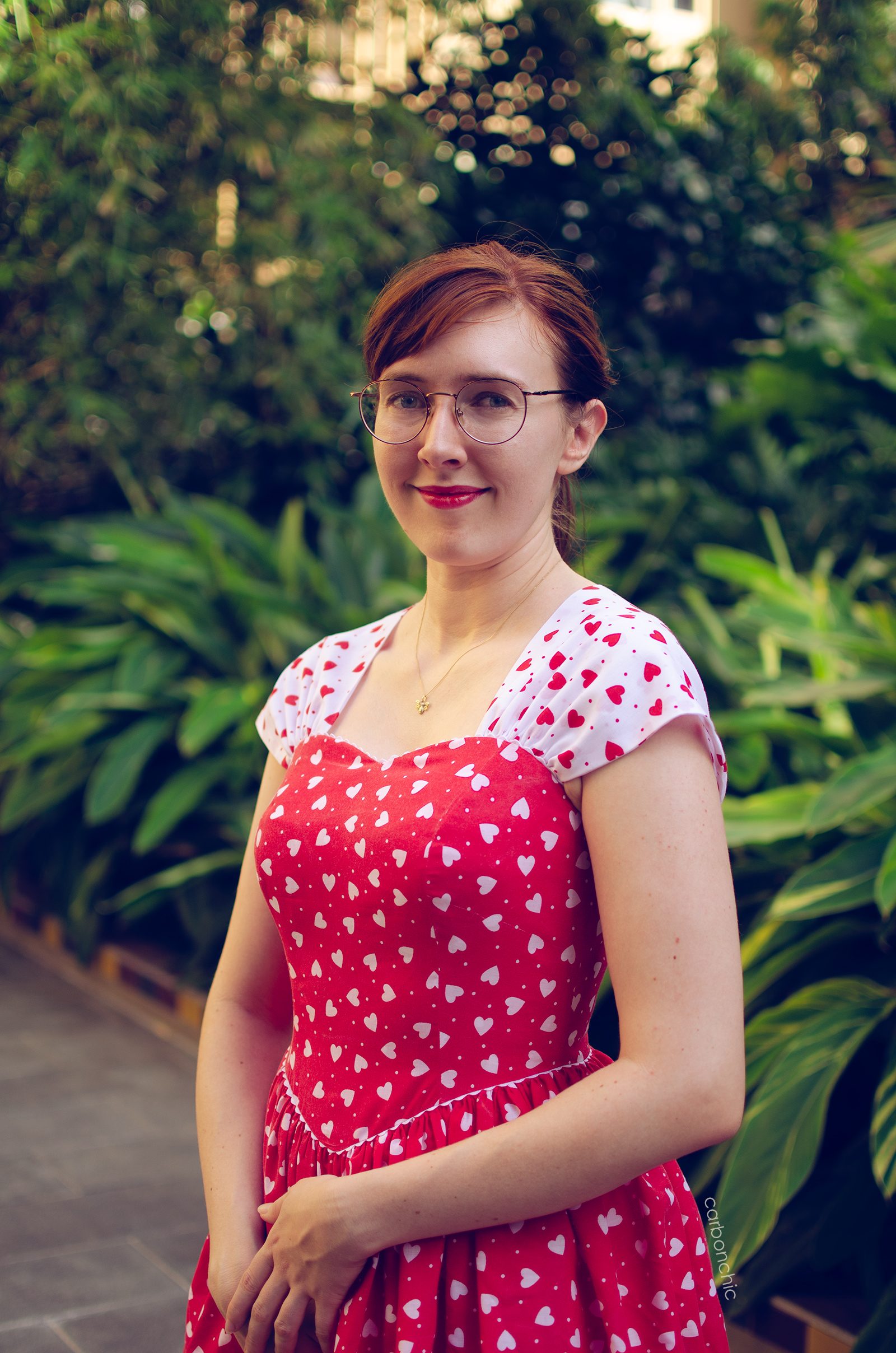 I actually had this fabric sitting in the bottom of the giant paper H&M donation bag I have set up in Alex's office for months because I couldn't bear to throw out four metres of unused fabric, even if it was leaking and streaky. Wearable muslin it is!
I feel very Barbie in it, which was my goal. I'm not quite sure that red it my colour, but it was a fun novelty project anyways. Also very uncertain about that lip colour. I usually stick to tinted lip balms at the most but this time I used a bold lip stain and I kind of hated it, I felt really alien when I looked in the mirror. The more I look at these photos, the less unusual it looks, which is surreal because I remember initially thinking, "I look ridiculous". This is what happens when you don't wear makeup, every time you put even a little bit on, you feel like you've been attacked by Homer Simpson's makeup shotgun.
Lessons learned:
Cotton/poly is a hard no. Every time.
Add more ease to your stupid bodices, Demi.
Refer to these images when you're tempted to forgo interfacing next to your zipper.
That's all she wrote, folks!