When it rains, it pours. Just as I was enjoying braving the open world in my short pastel skirts and sleeveless blouses, along comes another reminder from Mother Nature that it's still Winter in Brisbane. As I'm incredibly susceptible to the cold, I've taken to mostly hibernating inside, basking against Hugo's eternal internal furnace (does that count as alliteration, do you think?). But when I do leave the house, I still like to dress up.
I am pretty much smitten with every element in this outfit. It's something I've worn a lot in a few different combinations but never really bothered to document. This coat is pure magic, a lovely deep magenta with a double-breasted feature that hits just the right length. I documented it last year among some of my better purchases in June as a testament to the power of patience when bargain hunting. (I am pretty sure I called up the city ValleyGirl store every couple of days after spotting it to inquire if they were having a coat sale yet, sometimes realising how obsessive that made me look and giving them nothing other than a few panicked gasps of air before hanging up and resolving not to call them again. Sorry, ValleyGirl employees..)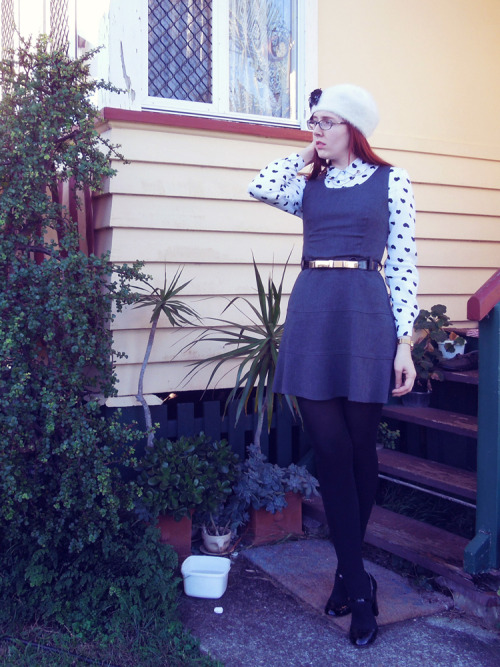 As for the dress, it's also another steal from ValleyGirl–last one of its kind on the rack, I bought this several years ago and still wear it as a work dress, always with various different collared blouses paired underneath it. The perfect style for layering!
The close-ups I wanted to share mainly revolve around the watch and the heels. They're both eBay bargains! The watch is simply amazing; I wanted a gold mesh watch with a white face that I wouldn't be so scared to wear with casual outfits, and I found the perfect one on eBay so decided to splash out (my definition of that phrase, anyways). As for the shoes, I've started my foray into second-hand eBay auctions and these shoes are the product of one of my first wins. Classic d'orsay style, stable heel, black patent leather, scalloped design and little gold buckles–these were too cute to pass up.
What I Wore:
Cream Angora Beret with Black Sequin Bow – Temt, $10
Stud Collar Clips – eBay

, $1

Black and Gold Bee Brooch – Lovisa, $3.30 (3 for $10)
Colourful Crystals Mickey Mesh Watch – eBay, $18 (Also available in silver with differently-coloured faces)
Double-Breasted Magenta Coat – ValleyGirl, $25
Gold Bow Patent Belt – Forever New, $10
Heart Print Blouse – eBay, $8
Sleeveless Grey Shift Dress – ValleyGirl, $10
Black Opaque Tights – Target, $1
Elche Collection Black Patent Scalloped D'Orsay Pumps – eBay, $20
Total: $106.30
That's the first time in a long while I've went over my self-imposed limit! Generally I don't include watches in the outfit total, though. I don't know why, I guess I see them like I see bags, as superfluous pieces that don't really impact the look of the outfit that much.
Speaking of bags, among much of the things you haven't seen that I wear constantly, is this Marc Jacobs-inspired French Bulldog design that you see on his loafers–but in bag form. I don't know what crafty person thought to themselves, "Hey, the dog flats are a big seller, let's make a bag version!", but I am glad that kind of ingenuity exists. They're cute, roomy as heck, attract compliments like poop attracts flies, and CHEAP!
Anyways, that's all from me today–I'll leave you guys with a photo of Hugo basking on our wet grass (thanks, dog) and a clip that inspired the title of today's post. Does anyone recognize which famous children's cartoon it belongs to? All you 90's Australian kids will be hit with a wave of nostalgia, I promise you that!